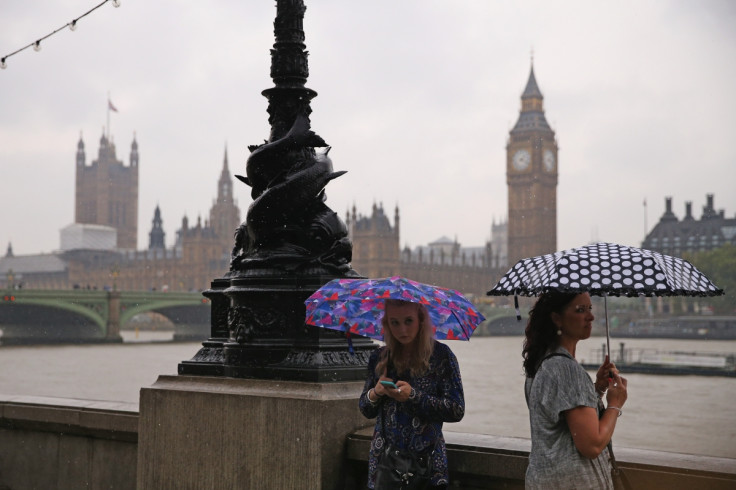 Despite warnings of a cold snap hitting the UK, the Met Office has said that London is unlikely to see snow over the Valentine's Day weekend. Forecasters predict that the capital can expect wet conditions despite the Arctic chill, making for a rather "dull" start to the weekend on Saturday (13 February).
The beginning of the weekend will see outbreaks of rain, occasionally turning heavy for some parts of London. The rainfall is expected to start as early as dawn and carry through until Sunday morning. Temperatures are likely to remain low across the country, with a maximum of 5C accompanying the London rain.
Valentine's Day should brighten, with the rain clearing from London during the morning and eventually turning to sunshine.
A spokesperson for the Met Office said: "It will be an unsettled weekend ahead, with some snow on higher ground. It is unlikely that London will get any snow, with rain being more likely and temperatures feeling colder than normal, feeling quite dull."
Snow is unlikely at altitudes below 400m, but could appear as far south as Derby. Cumbria and parts of Wales have already seen some snowfall.
Arctic winds from the north are causing temperatures to drop significantly in the week ahead and they could fall below freezing for much of the country. Forecasters are predicting unsettled weather alongside the cold snap, with strong winds and blustery showers.
The cold spell comes days after Storm Imogen battered England and Wales, bringing wind gusts of up to 80mph in some coastal regions. More than 13,000 homes were left without electricity and rail services were disrupted as huge waves hit Cornwall and Ireland's south-west coast.