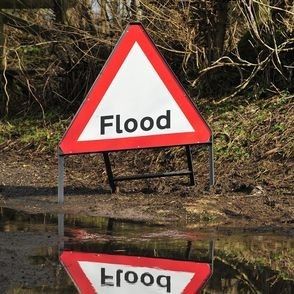 Heavy rains and winds of up to 80mph are expected to batter Britain in the next few days, prompting the Environmental Agency to issue 51 flood warnings and 203 alerts across England and Wales.
The Met Office has issued further warnings in Scotland for later this week as they predict very strong winds, which could likely cause property damage as well.
Environmental Agency Wales predicts heavy rains of up to 50mm (2in) for Swansea on Tuesday, coupled with the further risk of gales in the west of Wales. Traffic Wales also reports that several roads will remain closed in Powys.
Parts of west Wales have been affected by flooding caused by melting snow, combined with heavy rains, but the latest flood alerts issued by the Environmental Agency indicate that the worst might be still to come.
Several rivers are subject to multiple flood warnings, including the Soar in Leicestershire, the Dove in Derbyshire and the Ouse at York.
Joanne Sherwood, a spokeswoman for Environmental Agency Wales, has asked the residents of affected areas to move valuables to safety to make sure they are prepared for the floods.
The Met Office has attributed the latest severe weather to a deep Atlantic depression and has said that heavy rains are likely to continue in the coming days. The office also predicts that travel in these affected areas will be disrupted as a deep area of low pressure is to cross the north-west part of the country, bringing another spell of snow and windy weather. The north-west of England is likely to receive up to 5cm of rain, accompanied by gale-force winds on exposed coasts, moors and hills.
Casualties Due to Extreme Weather
Sherwood also asked residents to stay indoors as the flooding can cause "extreme misery for people and damage goods".
Reports suggest that 11 people were injured in a four-car pile-up on the M4 between Margam and Pyle in south Wales shortly after a hailstorm.
Norfolk police confirmed that they were compelled to close several roads due to extreme rains and flooding.
Train services have also been affected between Chester and Crewe, and Shrewsbury and Wrexham.
In light of the recent heavy rain, the South West Regional Flood and Coastal Committee has agreed to spend £721,000 on improving its defences.
James Morrish, Chairman of the Committee, told the Guardian: "The increase (in funds) is a clear statement of determination to address the backlog of flood defence needs in Devon, Cornwall, Plymouth, Torbay and the Isles of Scilly, particularly following the repeated flooding throughout 2012 which saw over 1,000 properties flooded in 200 locations."
READ: Britain Flooded: Mother Nature's Global Warming Warpath [BLOG]