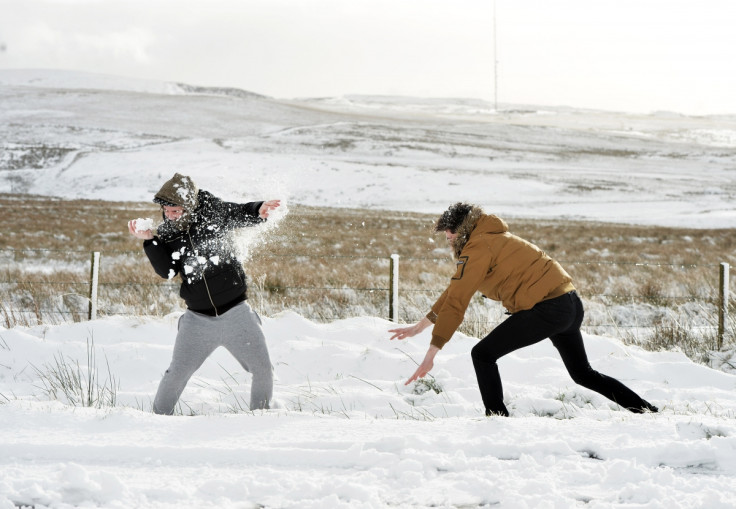 Severe weather warnings of snow and ice have been issued across most of the UK, including the London and south-east region. Forecasters have warned of difficult travel conditions and disruptions as temperatures fall below freezing in most places and rainwater turns to ice.
The Met Office has said that while some places might see rain or sleet, rather than snow, other areas could see accumulations of 2-5cm of snow falling within 2-3 hours on 17 February evening. The main risk area is expected to be along the eastern cost of the country, putting London and the south-east cities on a yellow "be aware" weather warning.
"Cold air means that there is a risk of rain turning to snow in places," a chief forecaster said about the south east region. "The rain-snow balance will be a tricky one, influenced by how heavy the precipitation is – the heavier it is, the more likely that the rain will turn to snow. For this reason, across some parts of the area, the precipitation may stay as light as rain, while other places may see enough snow to cause a few problems."
In the north, particularly in Scotland, heavy rain warnings have been issued and forecasters have warned that the rain is likely to be accompanied by strong gale winds of 50-60mph in coastal regions. The Western Isles could see stronger winds of up to 70mph, with these regions at particular risk of icy conditions as temperatures drop towards the evening.
The freezing temperatures make icy conditions the most hazardous across the country, with the Met Office urging people to beware of untreated surfaces. They have warned of a "good deal of rain" on 17 February for Wales, northern England and the Midlands, before clearing overnight.
A spokesperson for the Met Office said: "Surfaces will remain wet into the night, such that as the temperature falls below freezing, ice is likely to form on untreated roads and pavements."
Earlier this week a hilarious video went viral showing a man in Gloucestershire desperately trying to move a wheelie bin across his ice-laden driveway. Alun Miles struggled for nearly three minutes with the task as his wife recorded the incident from the window. Nearly 50,000 people shared the video on Facebook.
The snow and ice warnings come into effect on 17 February evening and are expected to remain in place until 18 February morning, after which conditions are likely to improve across the country, giving way to sunnier spells. London and the south-east will see temperatures rise to as high as 12C by the weekend, with large parts of the country seeing highs of 10-11C. Scotland will be colder, however, even here temperatures are expected to rise to 8C after the bitterly cold week.