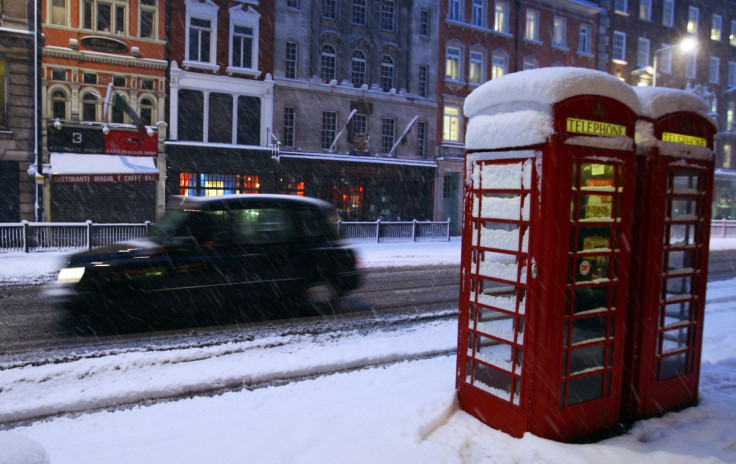 London and the south-east of England have been put on alert for snow and ice, along with a majority of the rest of the UK. Forecasters have warned that showers of sleet and snow could begin falling in the south-west on 14 February evening, beginning to accumulate overnight.
The Met Office has predicted accumulations of up to 2cm of snow in low levels in the south-east, with as much as 2-5cm over hills. A yellow "be aware" warning for ice and snow came into effect on 14 February morning and is expected to remain in place until midday on 15 February.
A chief forecaster for the Met Office said: "Ice will be a hazard on untreated surfaces, particularly between snow showers overnight, with those areas just inland from coasts of eastern and south-east England at particular risk as the showers will fall as a wintry mix. Please be aware of the potential for difficult travelling conditions."
On 13 February temperatures dropped as low as -14C in rural Scotland, with parts of the UK getting a blanketing of snow. The temperature drop brought the lowest temperature recorded in 2016 so far and severe weather warnings were issued for large parts of the country. Aviemore in Scotland saw up to 7cm of snowfall.
Overnight temperatures on 14 February are expected to be similar to the night before, falling to freezing in most places and many seeing 0C or -1C as the minimum. The cold weather is likely to continue through the week, with most of the UK facing an average temperature of -4C on Monday (15 February) night.
Meanwhile, the Environment Agency has issued four flood warnings in England and Wales, requiring immediate action. A further 40 flood alerts have also been issued, urging people to "be prepared" due to the possibility of flooding. A number of flood alerts are in place on the banks of the River Thames, including places near Putney Bridge in south-west London.