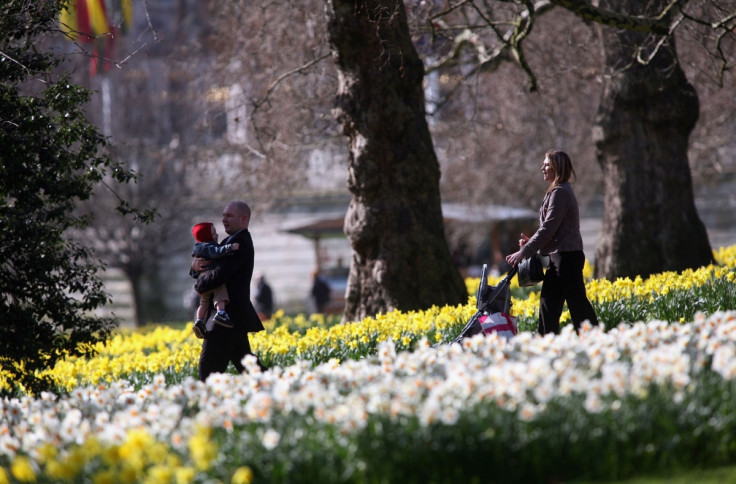 Temperatures in London and the south east of England are set to rise by this weekend, bringing the first hints of spring. Forecasters have predicted that temperatures could rise to 14C on 12 March in London, with the rest of the UK also seeing daytime temperatures as high as 11C.
The freezing conditions over the last few weeks have been prompted by an Arctic air mass over the UK, with a flow from a northerly direction bringing severe weather warnings for snow and ice across the country. However, from 11 March onwards a milder tropical air mass from the south-west will arrive, marking the beginning of spring.
A spokesperson for the Met Office said: "Friday should be milder for many with temperatures widely into double figures Celsius. It will be rather cloudy though and some rain is likely, especially in the north and west. The milder conditions should stick with us into the weekend at least, and many places could become dry."
However, the country will have to stick out a few more days of miserable weather before the warmer conditions set in. Martin Young, Deputy Chief Operational Meteorologist at the Met office, has warned that an area of low pressure is due to bring heavy rain across southern and central parts of the country on Tuesday (8 March).
Strong winds are also expected ahead of the spring weather, with Young warning of "very unpleasant" conditions at times and the possibility of gale forces in some places. Severe weather warnings for wind and rain are in place for Wales, the Midlands, and the south of England on 9 March, including London. Forecasters have warned of travel disruption during this time.
A forecaster for the Met Office said: "Accompanied by windy conditions, the rain is likely to produce some flooding and difficult driving conditions. Some sleet and snow is likely in places, mainly on higher ground, though temporary snowfall accumulations of 1-2cm are also possible at low levels."
However, Lindsay Mears from the Met Office confirmed that brighter conditions are definitely on the way. Mears told the Evening Standard: "Spring began on the first of March but what you think of as spring weather [is starting]. Those temperatures will climb... so it will seem a lot warmer than it has been and it looks like it will stay mild."