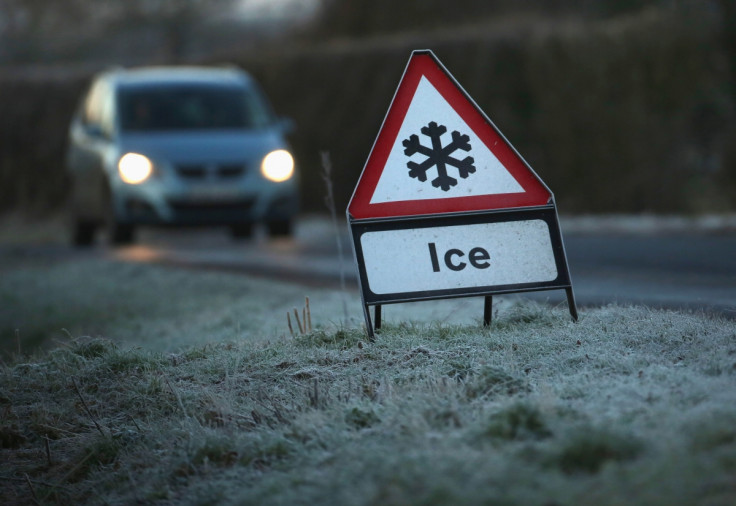 Despite the Met Office having cancelled a snow warning for London, forecasters are still predicting difficult travel conditions as a severe warning for ice remains in place. Weather experts have warned of the risk of roads freezing and temperatures plummet overnight.
A yellow warning for ice has been implemented in London for 5 March, bringing a slippery start to the weekend. The warnings comes into force at midnight and remains in place until 9am on Saturday morning (5 March). It is expected to affect much of the south-east as clear skies bring night-time temperatures below freezing.
A chief forecaster at the Met Office said: "Rain or sleet is likely to fall onto frozen ground to bring a risk of ice on untreated surfaces on Saturday morning. The main hazard is likely to be ice formation onto sub-zero surfaces, or where rain or sleet washes off earlier road treatment. Please be aware of the potential for difficult driving conditions and slippery surfaces."
Forecasters have also warned of a low possibility of transient snow on Saturday night in the London area, however, this is mainly expected to fall on higher ground. Up to 1cm of snow could settle for some time in places above 200m as a frontal band moves in from the north-west.
The warning to be on alert for travel disruption comes as the north of England saw severe travel chaos due to a blanketing of snow on 4 March. A number of airports and schools were closed as 4 inches of snow fell across parts of the country. London had also been on alert for snow, however, the warning was removed at the last moment.
It still remains unclear how severe the icy conditions will be in the capital this weekend, however, the Met Office predicting that the ice is due to reach the southeast by dawn. A spokesperson for the Met Office said: "There is some uncertainty as to how quickly this will occur and it is possible that precipitation may not reach the far southeast of England until mid-morning when the road temperatures will have risen above freezing."
Despite the cold conditions, recent findings have shown that this has been the warmest winter for England and Wales since records began in 1910. Forecasters said that the warmest of conditions had been recorded in the south of England, where the mean temperatures across the area had reached more than 2C above the winter average.