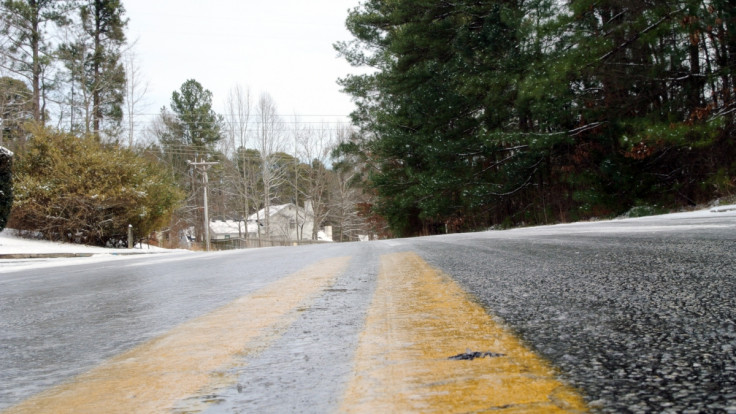 Temperatures are set to plunge across the UK on Friday morning (17 March) as Storm Stella continues to indirectly affect northern parts of Britain, the Met Office has warned. A severe ice weather warning has been put in place for parts of Scotland.
London will see highs of just 11C on 17 March, considerable less than Thursday's 18.8C, which made it the hottest day of the year so far. In rural areas, however, people will be waking up to frost and ice.
On Thursday north west England and Scotland experienced snowy showers as a result of Storm Stella making her way across the Atlantic from the US. Snowfall is not anticipated in these parts tomorrow but the threat of icy, dangerous roads is very real.
A Met Office spokesperson said: "The band of rain that we have seen across southern parts of Scotland and northern England will gradually start to push its way south and eastwards through the course of the night so that the cloud that we have had across the south today will clear away. Under those clear skies things are set to turn much colder.
"Across the north where we've got the snowy showers we are likely to see some pockets of ice first thing on Friday morning. In the rural parts of the country temperatures could fall quite close to freezing. That sets us up to a cold start with some frost first thing on Friday morning.
"But a beautiful sunny start for the early risers too across England and Wales. Further north and west though another area of cloud and rain will begin to spread its way south and eastwards through the course of Friday afternoon.
"So a wet day for Northern Ireland, much of southern parts of Scotland and Northern parts of England and Wales. However it should stay dry in the far south and east, just clouding over through the afternoon. And it's also likely to be a dry day for much of north-west Scotland as well.
"As for Friday evening that rain will gradually filter it's way into the south and east. The heaviest pulses are always likely to be more towards the west though so north-west England and Wales perhaps seeing some of the heavier rain but that then sets up the scene through the rest of the rest of the weekend with further outbreaks of rain on the way."