China appears to be sitting on the fence regarding the standoff between Russia and the West over Ukraine and the crisis in its southern region of Crimea.
As the Crimean parliament voted to break away from Ukraine and join Russia instead, the US and China held talks and agreed any solution to the crisis must respect Ukraine's sovereignty and territorial integrity, the White House has said.
"They also agreed that the United States and China share an interest in supporting efforts to identify a peaceful resolution to the ongoing dispute between Russia and Ukraine that is based on respect for international law and upholds Ukraine's sovereignty and territorial integrity," a White House statement said, referring to a phone call between China's State Councillor Yang Jiechi and US national Security Advisor Susan Rice.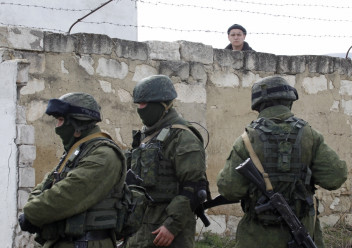 The statement seems to distance China from Russia, which has deployed thousands of troops in Crimea claiming it had Beijing's backing.
According to an account of the phone call reported by China's state news agency Xinhua, Yang also "stressed that the legitimate rights and interests of all ethnic groups in Ukraine should be accommodated in handling the Ukraine issue".
Crimea is the only Ukrainian region where ethnic Russians make up a majority of the population.
Earlier this week, Chinese president Xi Jinping said in a phone conversation with his Russian counterpart Vladimir Putin that the "situation in Ukraine, which seems to be accidental, has the elements of the inevitable".
Perhaps Beijing's stance was best explained by Qin Gang, a spokesperson for the Foreign Ministry, who said China's long-standing position was "not to interfere in others' internal affairs".
Meanwhile Crimean lawmakers have scheduled a referendum for 16 March where the local population will be asked to vote whether the republic should join Russia.
Ukraine's new Prime Minister Yatsenyuk described the decision as "illegitimate".
The move nevertheless quickly found backers in Moscow, where a prominent member of parliament, Sergei Mironov, said he has proposed a bill that would simplify the procedure for the eventual annexation.
Rustam Temirgaliev, first vice premier of the Crimean government, said preparations were already underway to bring Crimea into Russia's "ruble zone".
"At the present moment, a large, important group of specialists from Russia is at work, preparing to assure the entry of Crimea into the Russian Federation," Temirgaliev said.
The new regional leader, Sergei Aksyonov, added that the peninsula was fully under the control of riot police and security forces joined by about 11,000 "self-defence" troops.