The EU has published the list of 18 Ukrainian officials and business leaders whose assets it has frozen over allegations they embezzled billions of roubles in and stripped the country of desperately needed funds.
The list includes ousted president Viktor Yanukovich, cabinet ministers, his businessman son, Oleksandr, and suddenly-rich 28-year-old oligarch Sergey Kurchenko.
Kurchenko, who was almost unknown two years ago when he embarked on a buying spree of some of Ukraine's key assets worth about $800m (£480m), said he was "surprised" to see his name in the list.
"But even more I'm surprised by the definition 'Person subject to criminal proceedings in Ukraine to inves­tigate crimes in connection with the embezzlement of Ukrainian state funds and their illegal transfer outside Ukraine'," he said.
"I am an honest Ukrainian businessman who always invested in Ukraine, and it is here that most of my business is concentrated."
The owner of one of Ukraine's top football clubs, Metalist Kharkiv, founded his sudden personal fortune - estimated at $2.4bn - on gas.
Thanks to a series of strategic contracts and acquisitions, including the purchase of a $300m oil refinery from Russia's Lukoil, two of his companies - GazUkraine-2009 and VETEK - came to hold the lion's share of Ukraine's energy market in little more than 12 months.
Some of Yanukovich's political opponents claimed that Kurchenko's staggering rise had more to do with cronyism than merit.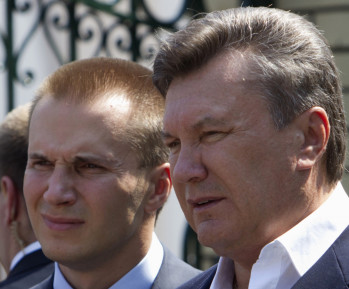 "In just one year, this unknown man and his unknown company became fabulously rich," Yuriy Syrotiuk, an MP with the nationalist Svoboda party, told the Guardian.
"This is impossible in our country without support of those in power. I'm sure Kurchenko is just a frontman. He didn't create Facebook or do anything intelligent, he just managed to use links to those in power."
Kurchenko claims his group of companies was repeatedly subject to inspections by the authorities and no serious violations were found.
In November 2012 Forbes Ukraine ran an article titled The Gas King of All Ukraine, which investigated the young oligarch's dealings. It alleged he had ties to firms involved in gas smuggling and links to the son of Ukraine's prosecutor general, Viktor Pshonka - both Pshonka senior and junior are on the EU sanctions list.
A few months later, Kurchenko bought Forbes Ukraine through its holding UMH.
In June 2013, Taras Berezovets, director of Berta Communications, told the Economist that Kurchenko was a front for "The Family", a group of businessmen who allegedly amassed a fortune through their ties to Yanukovich.
After Yanukovich was ousted and the huge riches he had amassed during his years in power were revealed, the offices of VETEK were evacuated. Shredded documents were found nearby, the KievPost reported.
Kurchenko is believed to have fled to Belarus. The EU has frozen his cash, cheques facilities, bank deposits, stocks and shares while he is under investigation in Ukraine over the misappropriation of state funds and their illegal transfer abroad.
In February the newly installed prime minister, Arseny Yatseniuk, revealed that $70bn (£42bn) had gone missing from the public balance sheets. Yanukovich's regime was accused of hiding the cash in offshore bank accounts.
"I think that what had happened is a misunderstanding caused by the media campaign launched against me and the group by my competitors worried by the active growth of VETEK GC," Kurchenko said.
"A number of political forces in Ukraine are trying to take advantage of the complicated situation in the interests of their sponsors - the oligarchs - and to seize my assets. However, the presumption of innocence has not been cancelled - all charges against me are based on allegations and are extremely provocative.
"There are no criminal cases either against me or any of my companies. And I'm sure that the misunderstanding will soon be over," he said.