Russia has claimed that a group of Russian paratroopers who were captured by Ukrainian forces in eastern Ukraine had crossed the border "by accident".
Ukraine confirmed that 10 Russian paratroopers had been captured and, as proof of this, released interview footage with some of the captive military personnel. In one interview, an alleged Russian paratrooper is quoted as saying: "Stop sending in our boys. Why? This is not our war. And if we weren't here, none of this would have happened."
"The soldiers really did participate in a patrol of a section of the Russian-Ukrainian border, crossed it by accident on an unmarked section," a Russian defence ministry source told Russian news agency RIA Novosti. "As far as we understand they showed no resistance to the armed forces of Ukraine when they were detained."
"We did not give much publicity to that. We just returned all those willing to return to Ukrainian territory at safe places," the source said of claims that 500 Ukrainian troops had also crossed the border at different times since the conflict began.
Prisoners of civil war
Ukraine's security service said that the Ukrainian military had caught the 10 Russian paratroopers near Dzerkalne village, 50km (30 miles) southeast of Donetsk, the Ukrainian city held by pro-Russian separatists.
Ukrainian television reported that the Russian men were from the 331st regiment of the 98th Svirsk airborne division.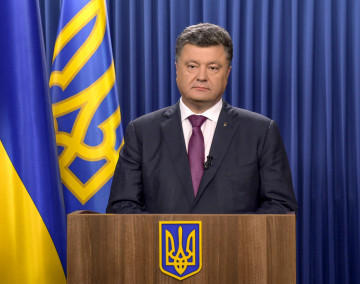 The capture of the troops comes after Ukrainian president Petro Poroshenko announced he is dissolving parliament to prepare for elections in October, before he and Russian president Vladimir Putin meet at a summit in the Belarussian capital of Minsk.
The summit, organised to discuss the ongoing crisis, is also set to be attended by senior European Union officials. It will mark the first face-to-face meeting of the pair since a World War Two commemoration ceremony in June.
"I hope very much our Western colleagues… won't just come with expectations we will somehow magically solve things for them. That will not work," Russian foreign minister Sergei Lavrov told a news conference.
UN agencies estimate that more than 2,000 people have been killed in the fighting between the pro-Russian rebels and the Ukrainian military since April.
The downing of Malaysia Airlines flight MH17, for which pro-Russian rebels are suspected, killing 298 passengers and crew, highlighted the poor relationship between the ex-Soviet state and Russia, and Moscow's relationship with the separatists in eastern Ukraine.