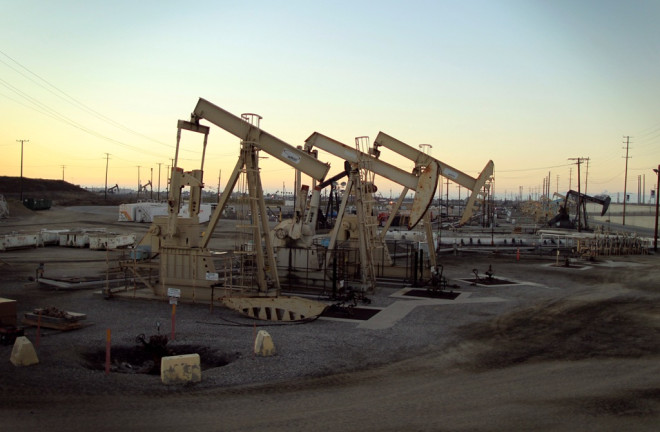 Crude oil prices shot up to multi-month highs on 3 March, boosted by the prospect of a war in the Ukraine.
Russian president Vladimir Putin declared he had the right to invade his neighbour to protect the Russian-speaking population. Ukrainian Prime Minister Arseny Yatseniuk said Moscow's move was a "declaration of war" by Russia, the leading oil producer.
Brent crude struck a peak of $111.41 per barrel, its highest since 31 December, 2013 and was up $1.70 to $110.77 by 09:00GMT.
US crude jumped $2.06 to $104.65 a barrel, the highest since 23 September, before easing to $103.85.
Oil prices rose as European and Asian stock markets tumbled, with market participants pulling out of riskier assets such as equities.
Analysts believe Russian supplies of oil to the rest of the world would not be disrupted by the ongoing Ukraine crisis.
However, brewing tensions have fuelled concerns over disruptions of Russian natural gas supplies to Europe, which would witness a rise in demand for alternative fuels such as heating oil. The European Union receives about 25% of its gas from Russia, mostly piped through Ukraine.
Ben Le Brun, market analyst at OptionsXpress, said: "Oil markets are reacting on the potential that the situation could worsen.
"But I definitely suspect oil will move much higher, if it actually comes to war. US crude could easily surpass $110 and a $120 target is not out of the question."
Commerzbank senior oil and commodities analyst Carsten Fritsch said: "This is all about risk to supplies."
"Russia is one of the world's largest oil producers, a huge exporter, and very important to Europe for its energy security," Fritsch told Reuters.
Commerzbank Corporates & Markets said in a note to clients: "The conflict between Russia and Ukraine over the Crimean peninsula intensified noticeably over the weekend and has caused oil prices to rise significantly as the week begins. Brent has climbed by more than $2 to reach $111.4 per barrel, its highest level so far this year. WTI has likewise made considerable gains: at $104.6 per barrel, WTI is meanwhile at its highest price for 5½ months. Russia is the world's largest oil producer.
"According to the Russian Ministry of Energy, Russian oil production in February totalled 10.58 million barrels per day, i.e. only just below the January figure, which in turn was the highest volume achieved since the end of the Soviet Union. The lion's share of the country's five million barrels per day of oil exports go to Europe, so it is hardly surprising that Brent has risen in response to the conflict, even though the risk of actual delivery outages is small."
"Money managers are doubtless lending additional support to the price rise: in the week to 25 February, they had expanded their net long positions in WTI by 5,400 contracts to a record 329,100 contracts. Thus net long positions in WTI have been increased for six weeks in a row recently. The ICE will be publishing the data for Brent at lunchtime today.
"Although Brent likewise saw net long positions increased in recent weeks, their level is much lower than in the case of WTI. Russia is at least equally important when it comes to supplying Europe with natural gas, especially since most of the pipelines cross Ukrainian territory. That said, natural gas stocks are plentiful following the mild winter, so fears of any tightness of supply are exaggerated," the German firm added.
Putin obtained permission from his parliament on 1 March to use military force to protect Russian citizens in the Ukraine and told the US he had the right to defend Russian interests.
Russia exports around 5.5 million barrels of crude oil per day. Piped gas exports totalled 15.8 billion cubic meters in January, according to official data.