Ukraine Crisis: Donetsk Chemical Plant 'Hit by Massive Explosion'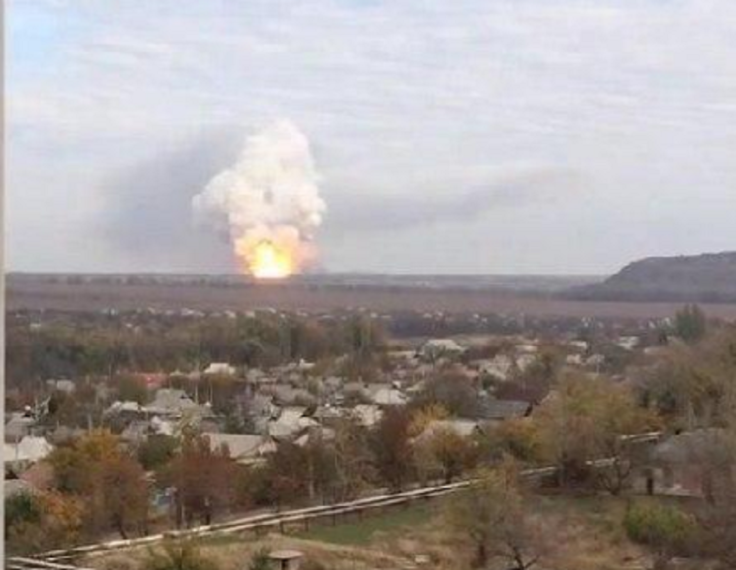 Ukraine's rebel-held city of Donetsk has been shaken by a powerful explosion, which is believed to have originated from a chemical factory.
The massive blast was heard shortly after midday local time (09.00 UTC), with shock-waves felt within a radius of several kilometres. Numerous buildings were reportedly damaged or had their widows shattered.
It was not immediately clear what caused the explosion and if it occurred at or near a rubber processing factory in an area controlled by Russian-backed separatists.
A claim by rebel fighters that the plant was hit by a Tochka-U missile fired by the Ukrainian military was denied by Kiev.
In a video of the incident uploaded online, a fire is seen burning in the distance behind a hill before erupting in a large blast. No casualties were initially reported.
Fighting between government troops and insurgents in eastern Ukraine has continued despite a nominal cease-fire being in place.
Blast waves from shelling also damaged Donetsk's Donbass Arena stadium, which hosted international football matches during Euro 2012.
BuzzFeed foreign affairs reporter Max Seddon tweeted:
According to the UN, at least 300 people have been killed since the truce was announced in September 2014.
© Copyright IBTimes 2023. All rights reserved.