Ukraine Crisis: Crimea Votes to Join Russia as US Sends Fighter Jets to Poland and Lithuania
The US is to send 12 F-16 jets to Poland for a military exercise.
Crimea parliament votes to join Russia, referendum to be held in 10 days.
Ukraine's interim economic minister and leader of the Tatar minority condemn referendum
EU publishes list of 18 Ukrainians held responsible for embezzling state funds in Ukraine.
Pro-Ukrainian and pro-Russian protesters clashes in Donetsk.
EU leaders and UN Security Council members hold separate emergency talks.
UN special envoy in Crimea, Robert Serry, was forced to cut mission at gunpoint.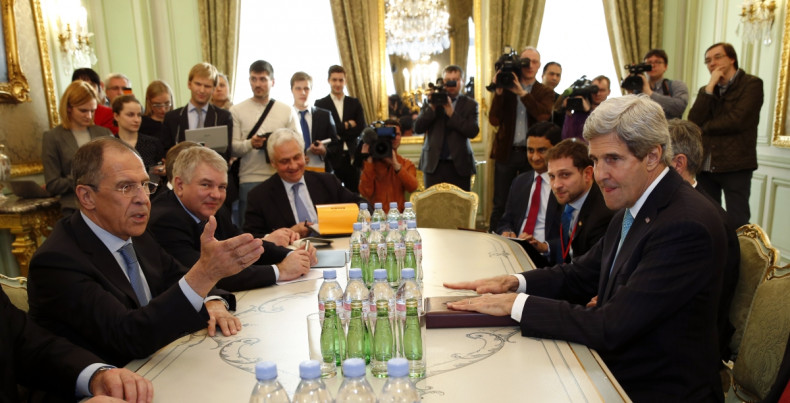 18:59 Our live coverage ends here. IBTimes UK will be back with fresh developments in the Ukraine tomorrow after a day in which the Crimean parliament voted to join Russia ahead of a referendum in 10 days' time; the EU placed tough sanctions and visa restrictions on 18 Ukrainian oligarchs and government officials, including the deposed president; and the US sent 12 F-16 fighter jets to Poland and six F-15 jets to Lithuania in response to the Russian invasion.
18:53 US secretary of stateJohn Kerry is speaking in Rome. He said Crimea is "in Ukraine". "Ukrainians need to live by Ukrainian law and by the constitution," he said.
He said that Ukraine has the international community's full support. "We want everyone to understand that our preference is to get back to normality, where the rights of Ukraine are respected and Ukrainian territorial integrity is respected," he continued.
He added that the international community cannot allow Russia or any country to defy international law with impunity.
He also confirms that the US has imposed tough visa restrictions on certain Ukrainian officials.
18:44 Barack Obama's Press Secretary Jay Carney says that ousted president Viktor Yanukovich left a trail of corruption after he fled Ukraine.
18:42 US President Barack Obama has condemned the Crimea referendum scheduled to take place in ten days time.
"The proposed referendum on the future of Crimea would violate the Ukrainian constitution and violate international law. Any discussion about the future of Ukraine must include the legitimate government of Ukraine," Mr Obama said from White House
"In 2014 we're well past the days when borders can be drawn over the heads of democratic leaders."
18:35 The United States is to send 12 F-16 fighter jets to Poland next week in a military exercise in a reaction to Russian involvement in the Crimea region. Read more here.
15:28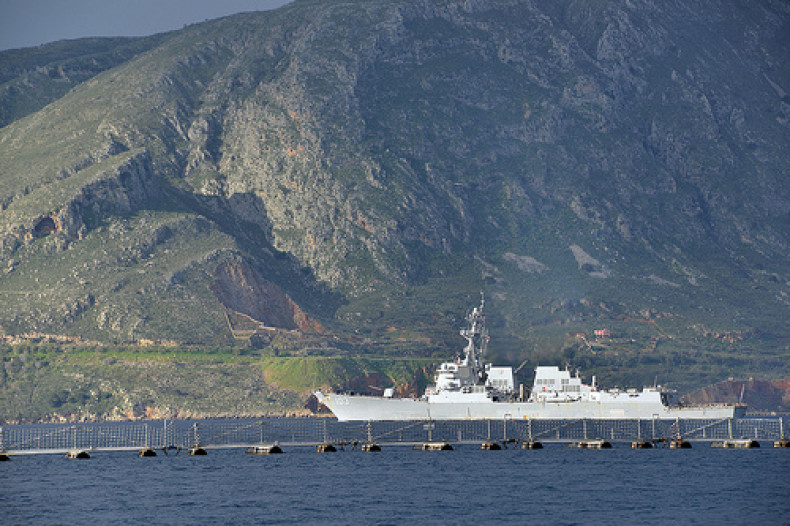 A US navy destroyer has left the island of Crete and is sailing to the Back Sea.
"The Arleigh Burke-class guided-missile destroyer USS Truxtun is en route to conduct combined training and theater security cooperation engagements in the Black Sea with Romanian and Bulgarian Naval forces," the US Naval Forces Europe-Africa said.
15:24 A senior official with the US administration has questioned the legitimacy of a referendum in Crimea on whether to break away from Ukraine and join Russia instead, AP reports.
The official said Ukraine's "legitimate government" must be involved in any decisions about Crimea's future.
14:49 The Russian foreign ministry tweeted:
14:44 A spokesperson for the Organization for Security and Co-operation in Europe (OSCE) told AFP OSCE observers were prevented from entering Crimea.
14:36 A photo apparently showing Crimea as part of Russia in a map broadcasted by Russia Today television is going viral on twitter.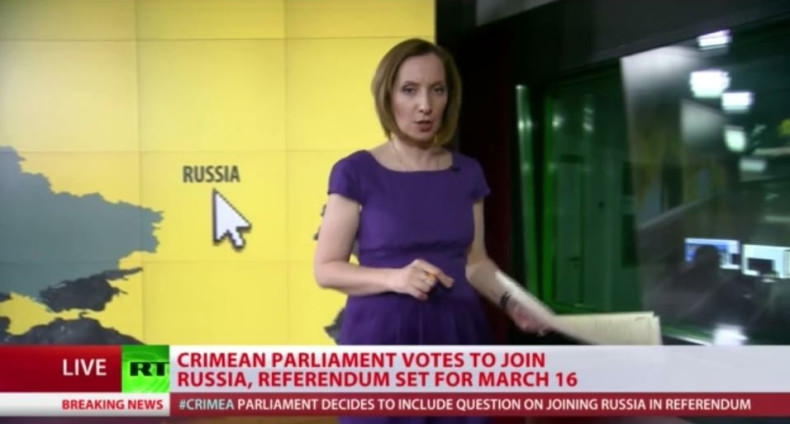 14:33 The self-proclaimed pro-russian governor of Donetsk, Pavel Gubarev, has been reportedly arrested by police.
Gubarev led demonstrators who stormed the local government building twice in the last few days.
14:22 Members of radical feminist group Femen staged a topless protest against Vladimir Putin's policies in Ukraine in Simferopol, Crimea.
They were confronted by self-defence units.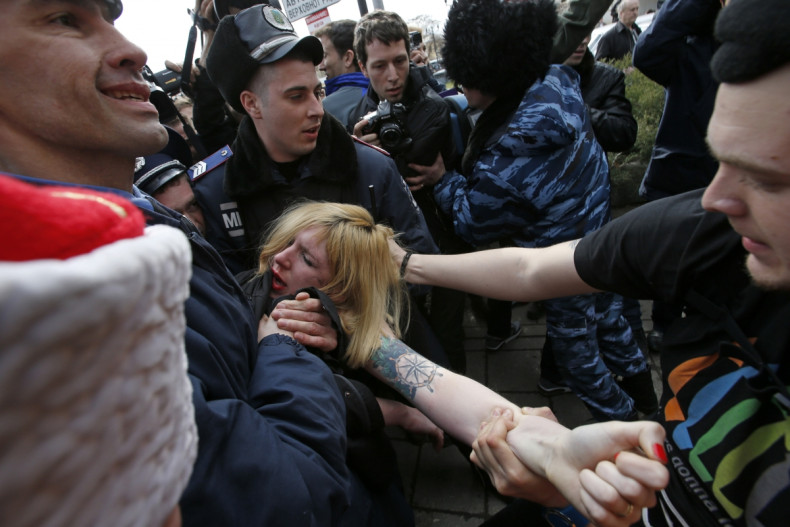 14:20 Ukraine's new prime minister Yatsenyuk held a press conference in Brussels. He said that a decision by the Crimean parliament to join Russia and held a referendum in March is "illegitimate".
"This is an illegitimate decision and this so-called referendum has no legal grounds at all. That's the reason why we urge the Russian government not to support those who claim separatism in Ukraine. Crimea was, is, and will be, an integral part of Ukraine," Yatsenyuk said.
"What we ask and what we urge is we urge the Russian government to pull back its military into barracks, not to support the illegitimate so-called government of Crimea and to start real talks and negotiations for a peaceful solution."
13:38 Pro-Russian forces are guarding the Crimean parliament from "extremists", according to Kyiv Post editor Christopher Miller.
13:32 Refat Chubarov, leader of the Tatar ethnic minority in Crimea, has reacted to the Crimea referendum on his Facebook page:
"They are simply mad. It is obvious that they are following somebody else's wishes. Good sense has abandoned them."
13:08 The EU list of 18 Ukrainian officials and business leaders who have had their assets frozen includes suddenly-rich 28-year-old oligarch Sergey Kurchenko.
Kurchenko, who was almost unknown two years ago when he embarked on a buying spree of some of Ukraine's key assets worth about $800m (£480m), said he was "surprised" to see his name in the list.
Read more here: Ukraine EU Sanctions: Mystery 28-Year-Old Football Oligarch Sergey Kurchenko Revealed
12:59 The US State Department has imposed a ban on visas for Russian and Ukrainian officials and individuals "responsible for or complicit in threatening the sovereignty and territorial integrity of Ukraine."
12:50 The president of the EU commission Jose Manuel Barroso tweeted:
12:44 In this photo Poland's Prime Minister Donald Tusk, France's President Francois Hollande, Britain's Prime Minister David Cameron, Germany's Chancellor Angela Merkel and Italy's Prime Minister Matteo Renzi are seen during a meeting ahead of a European leaders emergency summit on Ukraine, in Brussels.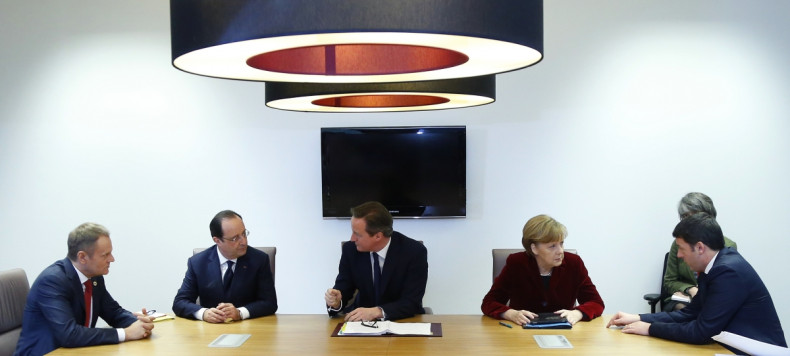 12:13 In a surprisingly undiplomatic move, the US State Department has published a list of "fictions" and "false truths" that Russian President Vladimir Putin has promoted to justify Russian military involvement in Crimea.
The publication of the list came just hours after US Secretary of State John Kerry held talks with Russian foreign minister Sergey Lavrov in Paris.
"The world has not seen such startling Russian fiction since Dostoyevsky wrote, 'The formula 'two plus two equals five' is not without its attractions,'" said the statement, entitled "President Putin's Fiction: 10 False Claims About Ukraine".
Read more here: Ukraine Crisis: Vladimir Putin's Top 10 'Fictions' Published by US Government
11:55 Russian Foreign Minister Sergey Lavrov has been doing the rounds in recent days with his European counterparts. Today he is meeting his Italian colleague, Federica Mogherini, for talks in Rome.
11:48 The US Air Force is to send six more F-15 jets from the UK to Lithuania, just 480km (300 miles) from Ukraine.
11:45 Organisation for Security and Co-operation in Europe (OSCE) envoy Tim Guildimann has made a statement at a news conference regarding the situation in Ukraine.
"The situation might seem quiet, almost normal, if you go to the streets. However it's extremely tense and I would consider it a miracle that bloodshed [has been] avoided so far given the political and even military circumstances on the ground."
11:01 Carl Bildt, the Swedish foreign minister, has tweeted his reaction to the Crimea vote for a referendum.
Read more here: Ukraine Crisis: Crimean Parliament Votes to Join Russia as Referendum Date Set
10:43 Ukraine's interim economy minister has said that the referendum on Crimea's status is unconstitutional, according to BBC Breaking.
10:28 An opinion poll has found that 71% of Russians believe their country should protect the interests of ethnic Russians in Crimea more actively, Interfax reports.
The poll, by Russia's Public Opinion Research Centre, found 17% think it better not to clash with the Ukrainian authorities, according to BBC Monitoring.
10:02 The referendum was initially scheduled for May 30 and called Crimeans to decide whether they wanted greater autonomy from Kiev.
Now they are reportedly going to vote on whether to join Russia instead.
9:43 Crimea will hold a referendum on its status on March 16, Rustam Temirgaliev, the Deputy Prime Minister of the southern Ukrainian region has announced Itar-Tass news agency reports.
9:18An American news anchor for Kremlin-funded network Russia Today has resigned live on air over her network's coverage of Vladimir Putin.
Liz Wahl, who was a correspondent at RT's Washington network, ended her segment by describing the "moral and ethical" challenges she faced.
Read more and watch the video here: Ukraine Crimea Crisis: Russia Today Presenter Liz Wahl Quits Live on Air
8:50 The EU has published a list of 18 people it has frozen assets to. These people are believed to be responsible for embezzling state funds in Ukraine.
Ousted President Viktor Yanukovich, his son and a number of former ministers are among those hit by the sanctions.
8:42 Last night, pro-Russian demonstrators clashed with participants of an anti-war rally in the eastern Ukrainian city of Donetsk.