Ukraine Crisis: 'If I Want, I Will Take Kiev in Two Weeks', Putin Warns EU's Barroso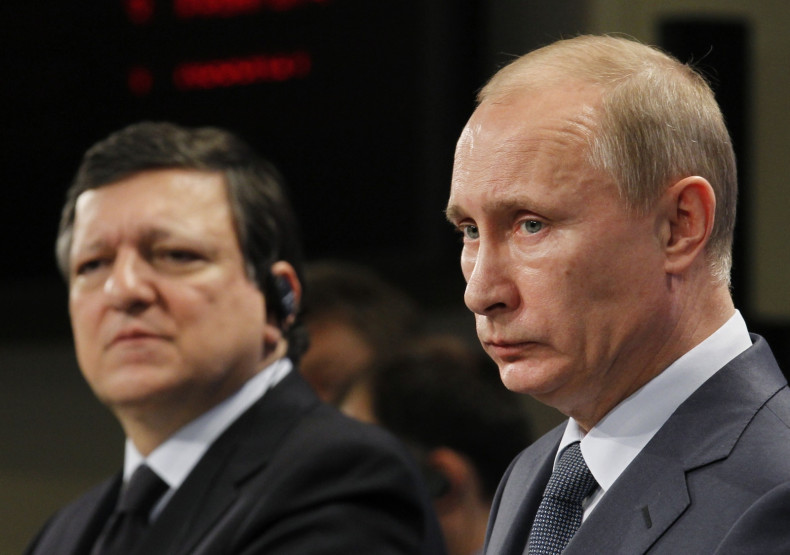 Russian President Vladimir Putin has issued a threat to outgoing European Commission President Jose Manual Barroso that he could "take Kiev in two weeks" if he wanted, Italian media reports have said.
According to Italian newspaper La Repubblica, the Russian leader made the belligerent statement in a phone call with the outgoing EU leader, who is set to be replaced by Luxembourg's former prime minister Jean-Claude Juncker.
Despite the escalating tensions between all parties involved, Russian Foreign Minister Sergei Lavrov has told negotiators in the Belarussian capital of Minsk that an "immediate ceasefire" is Russia's priority.
However, both Ukraine and European Union member states accuse Russia of supporting the rebels fighting Kiev's forces with military supplies and personnel in eastern Ukraine.
Ukrainian President Petro Poroshenko accused Russia of "direct and open aggression" in the eastern rebel-held cities of Luhansk and Donetsk.
Ukrainian forces have now withdrawn from Luhansk airport in the restive eastern region after firefights with pro-Russian separatists. Ukraine's security council confirmed that the troops had withdrawn "in an organised manner".
The reported exchange between Putin and Barroso comes as the Russian leader continues to refer to eastern Ukraine as 'New Russia" or "Novorossiya".
Fears are also growing in Kazakhstan over Moscow's rhetoric towards the country, following Putin's claim that "Kazakhs never had any statehood" and the country was simply "created".
In response, Nazarbayev warned that Kazakhstan may leave the Russian-led Customs Union, an economic coalition which includes Belarus, if it feels that its independence is threatened in any way by Moscow.
"Kazakhstan will not be part of organisations that pose a threat to our independence," he told the Kazakh television station Khabar.
The massing of thousands of Russian troops on Ukraine's border and reports of Russian incursions into Ukraine have put a spotlight on Moscow's intentions in the post-Soviet states bordering the member nations of the Nato military alliance.
UN agencies estimate that more than 2,600 people have been killed in the fighting between pro-Russian separatists and the Ukrainian military since April.