Vladimir Putin Continues Soviet Rhetoric by Questioning Kazakhstan's 'Created' Independence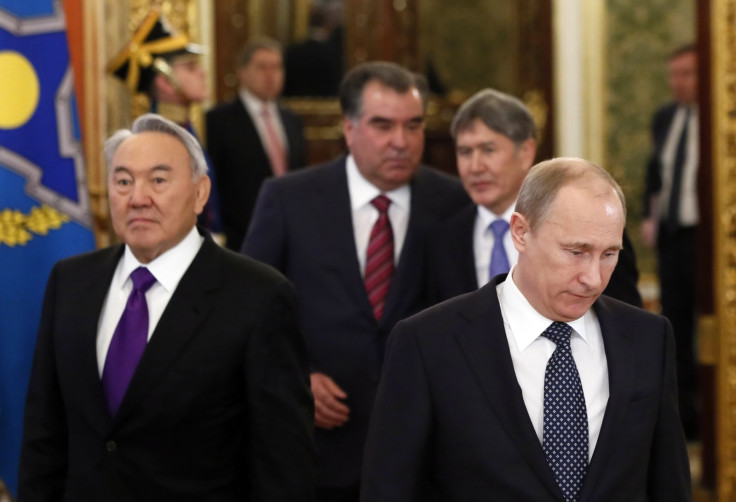 Fears are growing in Kazakhstan over Moscow's rhetoric towards the country following Russia President Vladimir Putin's claim that "Kazakhstan never had any statehood", it was "created".
The Russian leader told a pro-Kremlin youth camp at Lake Seliger near Moscow that Kazakhstan's President Nursultan Nazarbayev had "created a state on a territory that never had a state."
"Kazakhs never had any statehood, he has created it," he said.
It is believed by analysts that Putin's statement of Kazakh independence only being achieved because of Nazarbayev is a warning that it could easily vanish when the 74-year-old is no longer in office.
In response, Nazarbayev warned that Kazakhstan may leave the Russian-led Customs Union, an economic coalition which includes Belarus, if it feels that its independence is threatened in any way by Moscow.
"Kazakhstan has a right to withdraw from the Eurasian Economic Union," he told the Kazakh television station Khabar.
"Kazakhstan will not be part of organisations that pose a threat to our independence."
Kazakhstan was the last Soviet republic to declare independence from the Soviet Union when it finally did so in December 1991.
"Our independence is our dearest treasure, which our grandfathers fought for," Nazarbayev added. "First of all, we will never surrender it to someone, and secondly, we will do our best to protect it."
Putin's comments conjure memories of a statement he made to former US President George Bush in 2008 when he said that "Ukraine is not even a state!" during a Bucharest summit.
According to The Moscow Times, many Kazakhs have taken to social media in counter Putin's claims that Kazakhstan "never had any statehood", demanding that people "send a history textbook to Putin".
Russia's annexation of the Crimea Peninsula and its alleged incursion into eastern Ukraine and support of pro-Russian separatists have contributed to fears in Astana that Moscow may set its sights on other areas of the former Soviet Union.
© Copyright IBTimes 2023. All rights reserved.