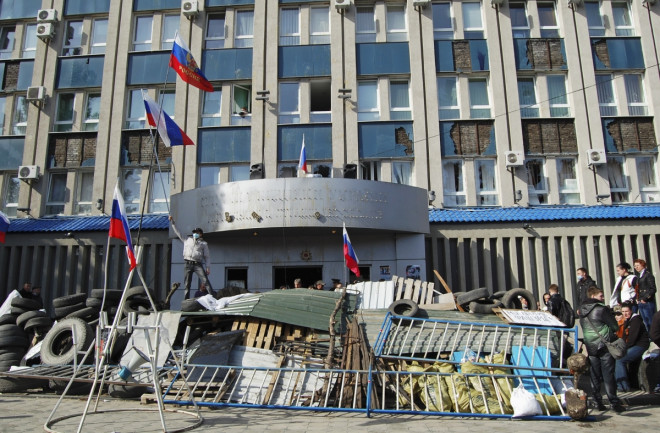 Pro-Russian separatists have released 56 hostages from a local government headquarters in eastern Ukraine, according to the country's security service.
The security services HQ in Luhansk was one of several government offices seized by pro-Moscow protesters against the interim government.
Ukrainian security services said the separatists were armed with weapons and explosives and had begun to build high barricades around the building's complex. It remains unclear how many hostages are still being held.
Interior minister Arsen Avakov said that the protests in the pro-Russian cities of Donetsk, Kharkiv and Luhansk must be resolved within 48 hours through negotiations or by force.
"The regime of anti-terrorist operation in all three regions is still in force and we can begin carrying out all planned actions at any moment," he said.
However, speakers in front of the occupied building criticised the interim government before demanding that they be allowed to hold a referendum like their Crimean counterparts.
After the clashes in eastern Ukrainian cities, Russia sought to allay Western fears about their troop mobilisation near their shared border.
"The United States and Ukraine have no reason to be worried," a Russian foreign ministry statement said.
"Russia has stated many times that it is not carrying out any unusual or unplanned activity on its territory near the border with Ukraine that would be of military significance."