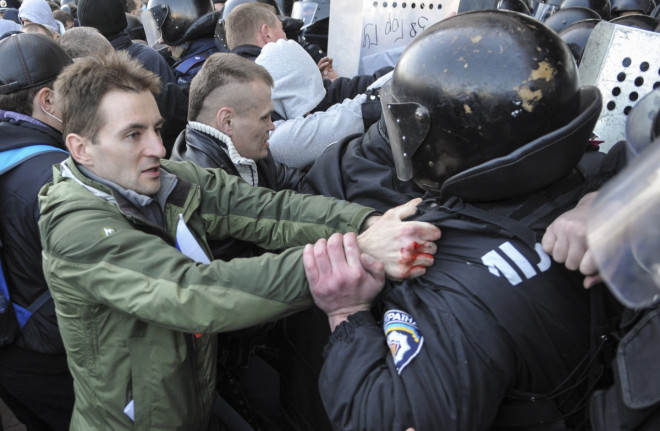 A Russian soldier has shot dead a Ukrainian naval officer in eastern Ukraine, according to Ukraine's defence ministry.
"We confirm the death of a Ukrainian officer in the village of Novofedorivka in Crimea," the ministry's press service told Interfax-Ukraine.
The ministry said that the sailor was preparing to evacuate to mainland Ukraine from the Black Sea peninsula, which was annexed by Russia last month after a highly-contested referendum.
In the statement, the ministry said the man, who had been staying in a dormitory in the Novofedorivka village, was shot twice in the chest and in the face "at close range from an AK-47" by a member of Russia's Black Sea Fleet.
The Ukrainian defence ministry added that Russian soldiers also beat a Ukrainian captain who was staying at the same dorm.
Kiev has been working to move the remaining forces in Crimea back to mainland since the annexation to Russia.
The development came after pro-Russian protesters stormed government buildings in the eastern Ukrainian cities of Donetsk, Luhansk and Kharkiv.
Protesters clashes with police, hung Russian flags from the buildings and called for a referendum on independence.
In Donetsk, protesters seized the building of the Ukrainian security service.
The Donetsk regional prosecutor's office said that the Donetsk police had been working on the liberation of the building.
"A group of aggressive young men broke into the department of the Ukrainian Security Service at 3:30am on April 7 and seized the premises without putting forward any coherent demands. A criminal case was opened under part 1 article 294 (mass disturbances)," the regional prosecutor's office said in a statement.
Prime minister Arseny Yatseniuk said that protests in eastern Ukraine are part of a plan to destabilize Ukraine and allow Russian troops to get inside the country
"An anti-Ukrainian plan is being put into operation ... under which foreign troops will cross the border and seize the territory of the country.
"We will not allow this," he said.