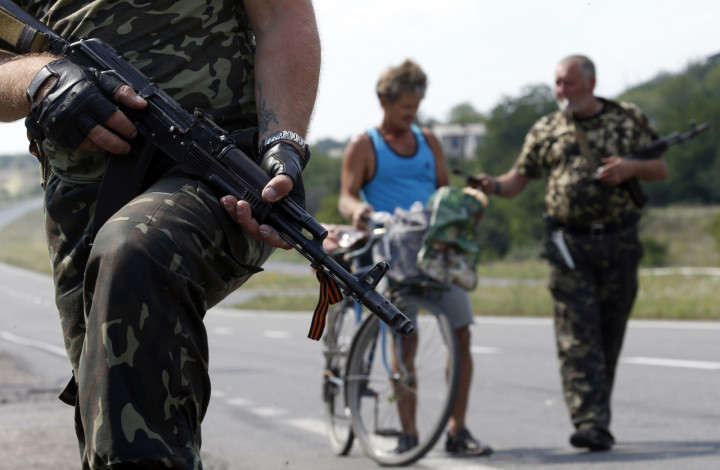 Nato has warned that Russia might use the pretext of a humanitarian crisis to invade Ukraine, as Moscow's forces begin a major drill near the border.
Nato said that Moscow, which earlier this week called an emergency meeting of the United Nations' Security Council to discuss the "catastrophic" situation faced by civilians caught up in the conflict in eastern Ukraine, has amassed some 20,000 combat-ready troops near the border.
"The latest Russian military build-up further escalates the situation and undermines efforts aimed at finding a diplomatic solution to the crisis. This is a dangerous situation," Nato spokesperson Oana Lungescu said.
Nato said its members are concerned that the Kremlin could use the "the pretext of a humanitarian or peacekeeping mission as an excuse to send troops into Eastern Ukraine".
"We're not going to guess what's on Russia's mind, but we can see what Russia is doing on the ground – and that is of great concern," Lungescu said.
Moscow's UN envoy had earlier proposed to send convoys of humanitarian aid to rebel-held regions, under the auspices of the International Committee of the Red Cross, according to a Russian media report.
"By any human standards, the situation in the east, especially in the Donetsk and Lugansk regions, is catastrophic," Russia's UN representative Vitaly Churkin said.
Russia is known to have deployed "peacekeeping troops" in several disputed former soviet regions where it had a geopolitical interest in the past.
Russian forces are present in both Georgia's breakaway regions of South Ossetia and Abkhazia as well as in Moldova's separatist province of Transnistria.
Meanwhile Polish Prime Minister Donald Tusk said that the risk of Russia launching a direct military invasion in Ukraine has mounted in recent days.
"We have been receiving such information in the last several hours that the risk of a direct intervention is for sure higher than it was several days ago," Tusk said.
"If [it] were to come to a direct intervention of Russian forces in Ukraine then this would obviously be a qualitatively new situation and in my opinion nobody has a good, unequivocal answer today how the Western community should react to that," he said.
The development came as fighting between Kiev troops and insurgents intensified around the separatists' strongholds of Donetsk and Luhansk.
Kiev and the West have long accused Moscow of actively supporting the separatist rebel by funnelling weapons and troops across the border.