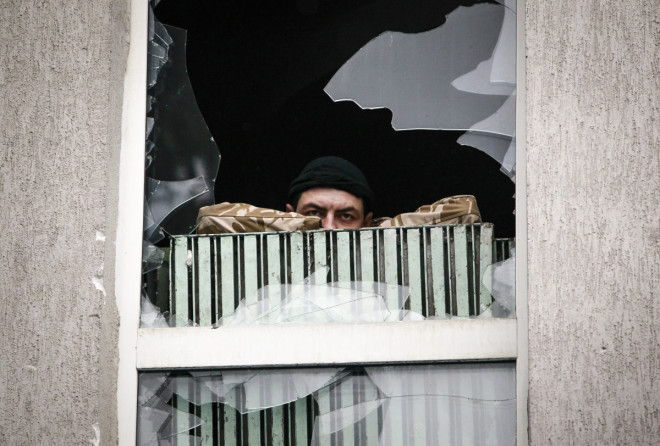 Armed men using stun grenades, firing shots and wearing camouflage uniforms have taken over a police station in the eastern Ukrainian city of Slaviansk, Interior Minister Arsen Avakov has reported. It is believed pro-Russian sympathisers are behind the operation, which comes in the wake of the seizure of other government buildings in Donetsk and Luhansk.
On his Facebook page Avakov wrote: "Armed men in camouflage uniforms seized the police department in Slaviansk. The response will be very tough because there is a difference between protesters and terrorists."
According to police the men have not made any demands but nor have they revealed their identity or nationality. However like Luhansk, Kharkiv and Donetsk, Slaviansk is in the east of Ukraine, where some of the Russian majority population have called for the region to split from Kiev and become part of Russia, like the Crimean peninsula to the south.
Although the Kiev government allowed Crimea to be annexed by Russia it appears determined to hang on to other Eastern regions where a large minority of people wish to remain part of Ukraine. Kiev called on protesters to leave all government buildings in the eastern region by Friday 11 April but there are as yet no signs of occupiers leaving any of the seized buildings.
Though the west has repeatedly condemned Russian actions in Crimea and the eastern Ukraine, the probability of armed forces being sent to the area seems remote. So far the west has limited its response to sanctions against Moscow as well as Crimean interests like gas company Chernomorneftegaz, which the new Crimean minister Dmitry Polonsky has mockingly dismissed as "mosquito bites".
On Facebook Avakov hinted that unless the armed men remove themselves from the police department at Slaviansk – which is some 90 miles from the Russian border - Ukrainian special forces would respond:
"I will say it again: those who want dialogue... will have dialogue and the search for solutions. Those who are up in arms, set fire to buildings, shoot at people, police, terrorise with bats and masks, these people will face an appropriate response."