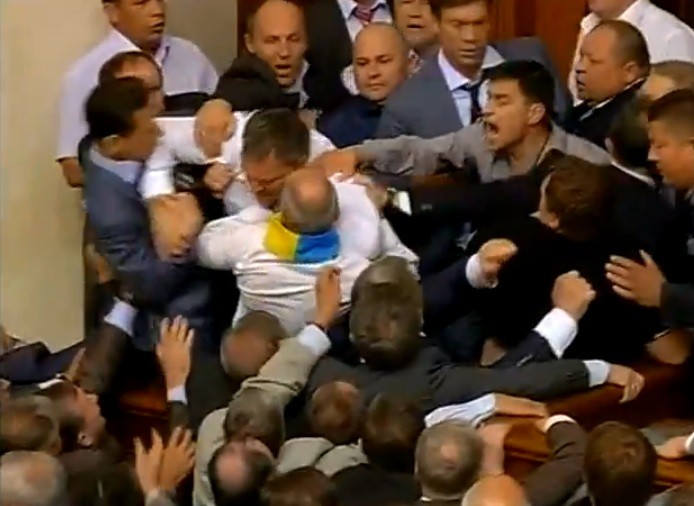 A parliamentary debate in Ukraine ended in chaos when the politicians from opposing parties engaged in virtual gang warfare in the legislature.
The ministers had been discussing a plan to allow the use of Russian language in civic institutions - such as hospitals and courts - in the Russian-speaking regions
The brawlers were members of the pro-western opposition who want President Viktor Yanukovytch's party to break away from their current Russian influence.
While the sight of politicians fighting each other in a scene worthy of a town centre punch-up on a Saturday night may be a surprising one, this is not the first time that elected officials have abandoned fighting with words and chosen fists instead.
Ukraine 2010
This was not the first time a fight has broken out in Ukrainian parliament. In 2010, eggs and smoke bombs were thrown in protest at Yanukovytch's decision to approve approved a 25-year extension to the Russian Black Sea fleet's base at Sevastopol, in Crimea. The ensuing brawl left six people in hospital. Yanukovytch himself was not hurt, nor was his suit stained as he managed to take shelter under an umbrella.
John Prescott
Another fight involving eggs, but this time the man at the centre of it was fully involved in the fracas. During a visit to north Wales, former Deputy Prime Minister John Prescott had a egg thrown at his by a protestor and dealt with him in the most instinctive way possible - by launching a quick jab to the face.
Judo Fighting Japanese Politician
In the UK we only have to deal with Prescott heart-heartily landing a quick punch. In Japan, the politicians go all out and launch a full scale judo attack on their opponents.
Nigeria
This fight broke out the National Assembly committee in Nigeria after legislators trade hear about a spending spree by House of Representatives.
India
Indian Parliament Politicians fight each other over a "civil right issue". Turns very nasty very quickly.