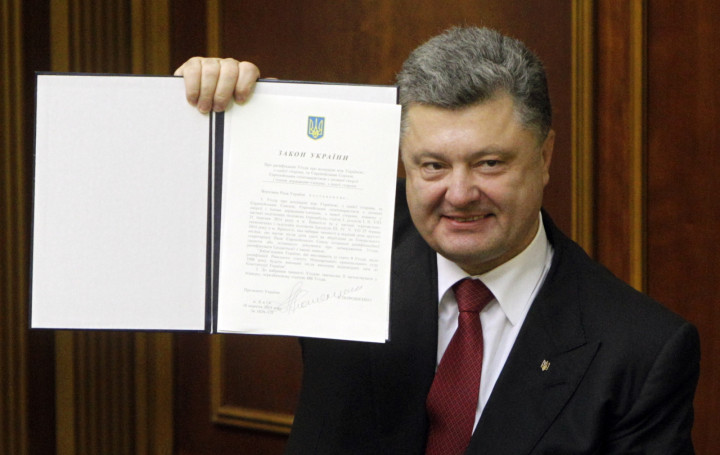 In a landmark parliamentary session, Ukraine has ratified an EU association treaty opposed by Russia and approved laws granting greater autonomy to the restive east of the county.
In the morning, lawmakers in Kiev passed two bills to foster the shaky peace process with Russian-backed insurgents.
One gave temporary special status to the Donbass region, including the rebel strongholds of Donetsk and Luhansk, while the second granted an amnesty for those involved in the fighting who didn't commit serious crimes.
The provisions were part of a ceasefire agreed in Belarus earlier this month and their implementation was welcomed by the insurgents.
"The adoption of the law is a step in a right direction," Luhansk rebel leader Alexei Karyakin told Itar-Tass news agency.
Later, MPs ratified a long-sought agreement on deeper economic and political ties between Kiev and the European Union.
Former president Viktor Yanukovych's refusal to sign the association pact last year eventually sparked the massive street protests that toppled him leading to the following crisis in Crimea and eastern Ukraine.
Ahead of the vote, President Petro Poroshenko reminded lawmakers that many Ukrainians had died for the chance to join Europe.
"[They] have died not only for their motherland. They gave up their lives for us to take a dignified place among the European family," he said.
After the agreement was ratified with 355 votes for, none against and 26 abstained, Poroshenko tweeted:
The deal was simultaneously ratified also by the European Parliament in Strasburg, with the two assembly connected by a live link-up.
"This is an historic moment", said EP President Martin Schulz. "The two parliaments freely determined to vote today at the same time on this agreement. This is free democracy," he said.
"The European Parliament has always defended the territorial integrity and sovereignty of Ukraine and will continue to do so".
The agreement has been strongly opposed by Russian president Vladimir Putin and negotiations with Moscow last week resulted in an important part of its trade prevision being postponed until 2016.