Ukraine's zombies rise again to demand purge of Russian actors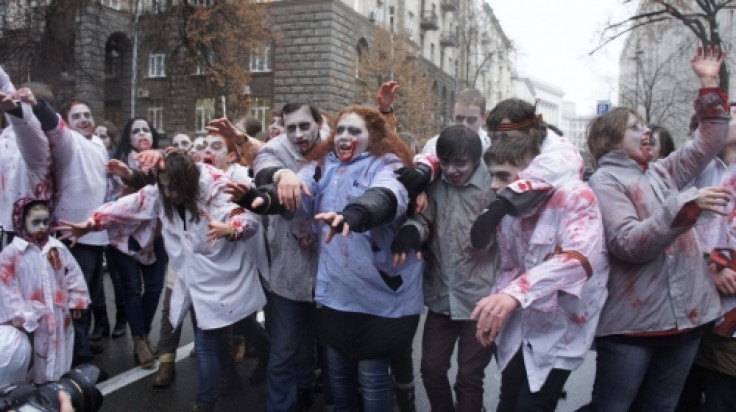 Activists from the social movement Vidsich ("Rebuff" in English) donned their zombie clothes again in Kiev to protest against the proliferation of openly pro-Russian TV series on Ukrainian TV.
The protest took place near President Petro Poroshenko's administrative buildings. Activists aged between eight and 45 years old painted their faces and hands with white and red colors, and dressed in white clothes spattered with red..
The "zombies" asked President Poroshenko to effect a ban of Russian TV and radio content in Ukraine.
They also wrote a letter to the president Poroshenko and got a feedback from his representative. Tomorrow they are waiting for new prohibitions of Russian movies and serials.
Video of the protest can be viewed here.
One activist, Myron Gordiychuk, told IBTimes UK: "We are a kind of theatrical zombies who represent those who watch Russian films and series, and then demand even more Russian content."
According to Gordiychuk, the activists are trying to press the view that, "even if there was no war, people should think about their content and national identity.
"One can talk about democracy and ensuring constitutional rights and liberties 100 times, but Russian films, which propagandise the greatness of the Russian army and the power of Russian weapons, are very harmful in conditions of war.
"It could be the same if Soviet TV translated movies about German families, German police and German military as valorous people, while they were cruelly killing our compatriots during the Second World War."
Pro-Russian bias
Many of Ukraine's most popular TV channels feature actors who are overtly pro-Russian in their outlook.
Mikhail Porechenkov, a Russian actor and producer whose hits include a remake of classic American action film Commando, was filmed apparently using a machine gun to fire at Ukrainian opponents in Donetsk, while Ivan Okhlobystin, a former priest who stars in a medical sitcom, went to the Donbass region with gifts for the separatists.
Today's protests followed a similar zombie demonstration three weeks ago.
"If we are waging the war for independence and survival of our country, so we should cut off this ideological factor" said Gordiychuk. "The absence of the right humanitarian policy, including the absence of our own series and movies production, resulted in the ideological loss of Donbass. Most people are totally under control of Russian TV.
"At the first stage we need to replace Russian content with content from other countries. The next step will be to enlarge the production of our own series and movies.
"Everybody should do as much as they can. All cannot go to the front. Today there are 50,000 people there. I'm also at the draft age, but now I have postgraduate studies and some special family circumstances that do not allow me to go there.
"All of us have to live a normal life, improve the economy and pay taxes, a part of which are directed to the needs of army. We should make cultural projects which will help to assert the Ukrainian language, Ukrainian culture and Ukrainian identity.
"We are growing our children, and we should invest the best in them, starting from animated cartoons."
© Copyright IBTimes 2023. All rights reserved.