UK's 'worst ever' paedophile ring drugged babies before livestreaming their rapes on the dark web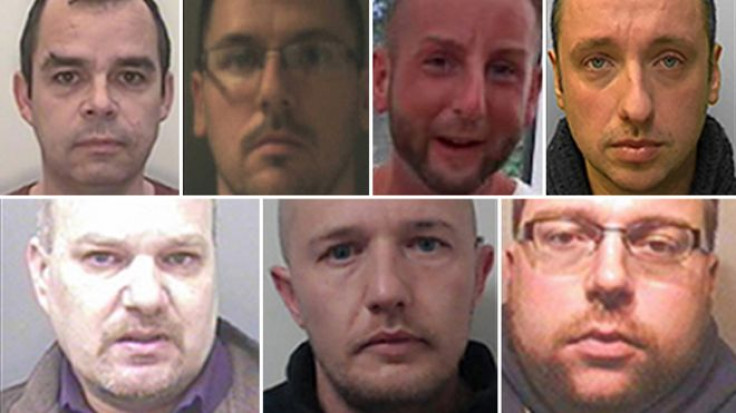 A paedophile ring described as the UK's "worst ever" has been jailed for a total of 107 for raping babies and toddlers, uploading sickening footage of the attacks onto the 'dark web'.
The men – John Denham, Matthew Stansfield, Adam Toms, Matthew Lisk, Robin Hollyson, Christopher Knight and David Harsley – drove hundreds of miles across the country to carry out the horrendous attacks while streaming images onto the dark web, a deeper recess of the internet designed to protect privacy.
They were sentenced at Bristol Crown Court to terms of between two and 32 years, with Hollyson – who was filmed abusing a baby – sentenced to 24 years in prison and a further eight years on licence. Hollyson (who was previously known as Robin Fallick), Stansfield and Harsley are already convicted sex offenders.
In strongly worded sentencing remarks, Judge Julian Lambert described the crimes as the most "deviant behaviour imaginable". "What you did is contrary to all nature and humanity and you each appear to have a chilling tendency to centre the world on yourselves and your depraved desires without regard for the innocent and vulnerable," the judge said.
Robin Hollyson, 31, from Bedfordshire, was sentenced to 24 years in prison and a further eight years on licence. He was filmed abusing the baby.
Christopher Knight, 35, from Manchester, was jailed for 18 years, with an extension of six years on licence
Matthew Stansfield, 35, from Hampshire was jailed for 14 years
Adam Toms, 33, from Somerset, received a 12-year sentence, and four years on licence
John Denham, 50, from Wiltshire - previously known as Benjamin Harrop - was jailed for eight years plus four years on licence
Matthew Lisk, 32, from East Sussex, was jailed for four years, plus an extension of three years on licence
David Harsley, 51, from East Yorkshire, was jailed for two years
They shared indecent images and videos of children being abused, communicating via social networking forums. Evidence showed the group's victims were mainly babies and infants, with at least one victim given stupefying drugs to enable offenders to carry out sexual abuse. Chat logs showed some members offered advice and guidance to others regarding how much drug to administer to a child, depending on their age.
Evidence heard during the trial was so shocking that Robert Davies, prosecuting, warned the jury in the trial of Denham and Stansfield: "This prosecution will take you into a world you wished did not exist. The evidence exposes the shocking interest a group of men had in sexually abusing babies, toddlers or pre-school children."
Following the guilty verdict in April, Graham Gardner, deputy director of investigations at the National Crime Agency, said: "We rarely see criminal behaviour involving the sexual abuse of children to this degree. This is serious organised crime as its worst and is precisely the type of work the National Crime Agency will be focusing on.
"The men involved in this group actively targeted families to facilitate the sexual abuse of their children, toddlers and babies. The depravity of these men appeared to know no bounds and is without doubt as vile as we have seen."
© Copyright IBTimes 2023. All rights reserved.