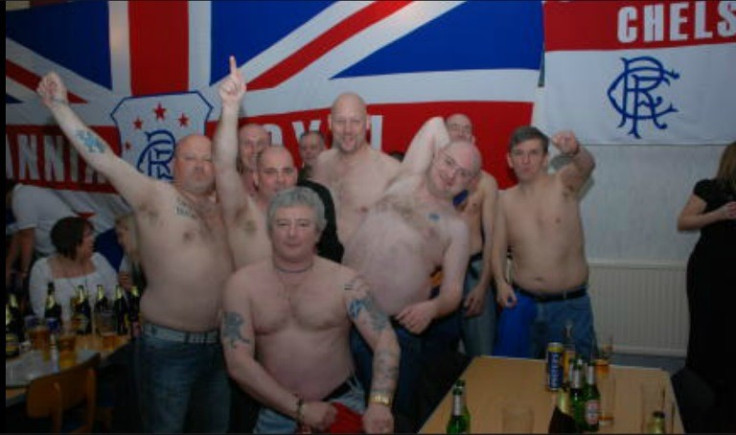 Whether it's a Nazi salute or, as some defenders have claimed, merely a "loyalist tribute", photographs of serving soldiers in Helmand, Afghanistan, holding aloft their right hands have been slammed by politicians, former servicemen and Anti-Semitic groups.
In the most-published image, two soldiers in camouflage fatigues hold their right arms above their heads while two others in civvy outfits stand with their arms behind their backs. All four stand before a large Union Jack and beneath it a smaller Ulster flag. On the Union Jack is emblazoned the name of a Kent-based Rangers supporters' club, 'Invicta Loyal'.
On Invicta Loyal's website there are numerous photographs of men and women wearing Union Jack insignia and wearing red gloves on their right hands - apparently a tribute to the "Red Hand of Ulster".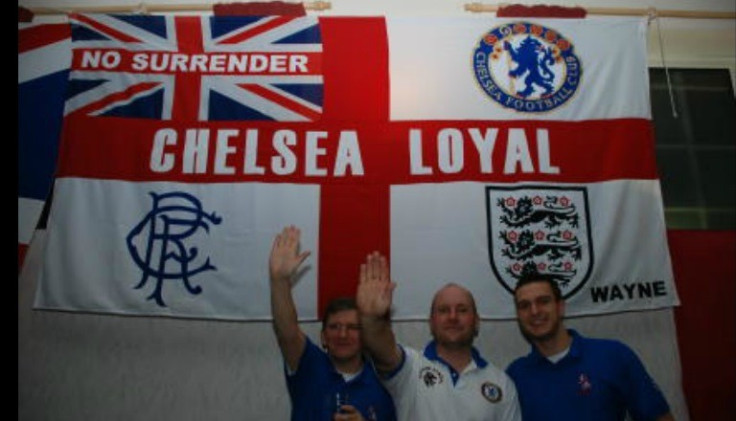 The "Red Hand" is an ancient Ulster symbol which also adorns the team kit of Gaelic Athletic Association club County Tyrone and until recently the logo of Northern Ireland's tourist board. However, it is often appropriated by Protestant paramilitaries like the Ulster Volunteer Force and Red Hand Commandos.
There have long been links between protestant paramilitaries and the Glasgow club and in 2007 Rangers fans were caught making what appeared to be a fascist gesture at a match in Tel Aviv, Israel. UEFA accepted the club's explanation that the gesture was not connected with fascism, though some Ulster historians clamed there was no such thing as a "red hand salute".
Last month serving soldiers at a Rangers match as part of Armed Forces Day were accused of sectarian singing and wearing offensive scarves. After that incident the Ministry of Defence issued a statement: "Any personnel found to have fallen short of the Armed Forces' values and standards will be dealt with by the chain of command and, if necessary, by the police."
The army announced last night that they have now spoken to the two soldiers making the gestures, which were apparently taken over three years ago, and they will be subject to "administrative action", meaning they could be punished if found guilty of breaching army regulations.
Politicians reacted with horror to the photographs. MP for Bassetlaw John Mann, who is chairman of the Commons All Party Group Against Anti-Semitism, said: "Whether they call it a 'Red Hand salute' or whatever makes absolutely no difference - this is one of the most offensive gestures they could make in the modern world."
However serving soldiers, including Colonel Tim Collins, who led the Royal Irish Regiment, 1st Battalion, in the Iraq War and was born in Belfast, said: "If this is offensive then so is the First XV Rugby team not wearing regimental ties. This is beyond minor, it is a grain of sand and I do not think for a second that these soldiers should be removed from the British Army. You'd end someone's career for having a laugh? How do people manage to be offended by so little?"