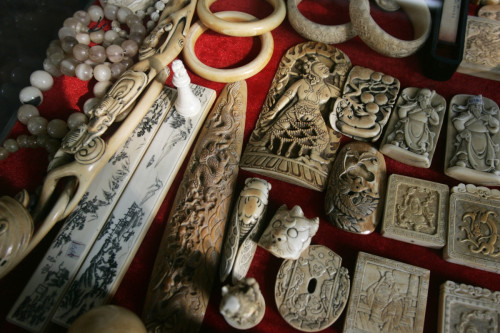 China has destroyed six tonnes of confiscated ivory tusks and carvings, just months after the US crushed about the same amount.
The move is unrivalled in the history of China, and demonstrates the country's determination in taking a stand against the illegal trade. The uncommon event was attended by representatives from 10 countries.
Delegates from the UK, as well as the African states of Kenya, Gabon and Tanzania looked on in awe as masked workers fed tusks from a pile of ivory carvings into crushing machines. It followed a public display of the seizure, in Dongguan in southern Guangdong province.
China has the highest demand for illegal ivory and accounts for about 70% of global demand, and had caused butchering of 100 elephants per day on average in 2012, according to WWF estimates. An escalation in poaching was projected for 2013.
China's enthusiastic demand for ivory stems from deep-rooted culture and traditions of the country. Ivory carvings have long been cherished as status symbols in China, while crushed ivory powder is used as an ingredient in traditional Chinese medicine.
Convention on International Trade in Endangered Species (CITES) cited China as one of eight nations failing to do enough to prevent illegal trade in elephant ivory.
Conservationists have welcomed China's stance, even though authorities have largely failed to dismantle international smuggling networks.
"This is a courageous and critical first step by China to elevate the important issue of wildlife trafficking and elephant poaching among its citizens and around the world. The Chinese government is to be commended for taking the issue seriously," Patrick Bergin, chief executive of the African Wildlife Foundation, told the Guardian.
The mass pulverisation was overseen by Chinese forestry and customs officials and shown live on state broadcaster CCTV. The ivory, which weighed 6.15 tons, was seized over a period of several years.
Officials say that the ivory destroyed was just a fraction of the illegal ivory circulating in China. The country's total stockpile was not disclosed, according to AP.
The ivory reportedly came from carving factories and shops in China and from intercepted shipments from Africa.
Last year, over 1,000 ivory tusks, mainly from baby elephants, being smuggled to China, were seized by customs in Hong Kong.
China follows other countries which have been destroying seized ivory in recent years.
Philippines became the first Asian country to come down heavily on ivory trade by burning five tonnes of seized stock confiscated since 2009, having an estimated worth about $10 million (approx. ₤6 million), last June.
Kenya had set a remarkable precedent by setting fire to about five tonnes of ivory in 2011. Gabon followed suit in 2012.
Recently, US crushed about six tonnes of ivory seized over twenty-five years as a part of decisive crackdown on the trade, amid suspicions that funding proceeds from trafficking are directed to terrorist groups.