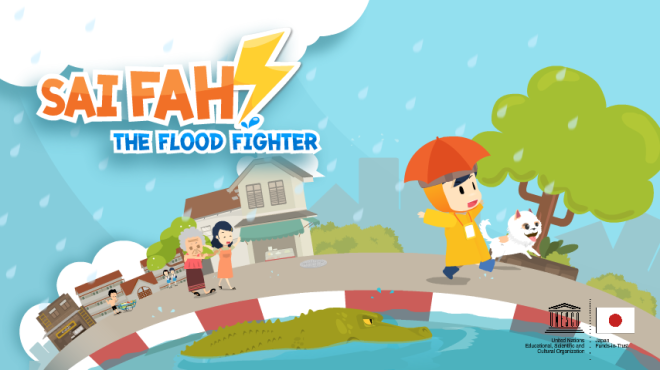 Unesco has launched the world's first flood preparedness educational game app on iOS and Android to teach Southeast Asian children crucial survival skills during a flood disaster.
Sai Fah – The Flood Fighter was launched in Thai in January and has already had over 22,000 downloads and topped the educational app chart in Thailand.
In 2011, 175 days of severe flooding in Thailand led to 815 fatalities, including dozens of children. The floods affected 65 out of Thailand's 77 provinces and caused 1,425 billion baht (£25.9bn) of economic damage.
Seeking to prevent further deaths, Unesco came up with the idea for an educational game app as a good way to spread the word quickly, enlisting the help of Thai app developer OpenDream with funding from the Japanese government.
Thailand has 90 million mobile subscribers, a number that exceeds the country's total population by 31.8%, according to estimates by Thailand's National Broadcasting and Telecommunications Commission (NBTC).
Flood survival tips
It has been so successful that the English language version has now been launched to help children in the rest of the region, particularly in countries that experience heavy monsoon rains such as Myanmar, Indonesia, Bangladesh and the Philippines.
In the game, you play Sai Fah, a young boy from Samran Town in Ayutthaya province, one of the worst-hit areas during the 2011 floods which saw homes, temples and car factories submerged under water for weeks.
The game has 22 levels which cover preparations before floods, as well as safety and survival tips during and after the flood, following Sai Fah on his quest to be reunited with his mother.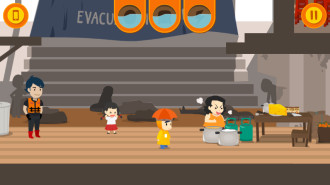 Sai Fah learns what to remember when travelling during the flood to an emergency camp, how to avoid dangers like electrical threats, crocodiles or snakes, not to drink unboiled water and many other real-life situations during flood disasters.
Along the way, parents and teachers can track a child's progress and the game rewards users with badges for completing certain challenges.
The app is not meant to be a substitute for children learning to swim or wearing life jackets, but the app developers wanted to drive home an important point.
"Just stay away from the water as much as possible," Unesco Bangkok's programme specialist in literacy and lifelong learning Ichiro Miyazawa told AFP.
Sai Fah – The Flood Fighter is available to download for free from Google Play and the iTunes App Store.