He plays the first president of Botswana, Sir Seretse Khama — who was born into one of the more powerful royal families of what was then the British Protectorate of Bechuanaland — returning from his education in the UK with a white bride.
David Oyelowo, of Selma fame, is magnificent as the Oxford-educated leader of Botswana, which gained independence in 1966, leading him to be elected its president after being prime minister since 1965.
The film recounts Khama's real-life love story with Ruth Williams, the south London-born ordinary British girl he met at a dance held at Nutford House in 1957. The pair quickly fell in love over their shared interest in jazz, but their romance was to cause international controversy.
Perhaps British-Nigerian actor Oyelowo, 40, was so perfect for the role because he drew on similarities from past life and professional experiences. Like Khama, he is married to a white woman — actress Jessica Oyelowo — and also has four children.
Discussing how times have changed since Khama's day, Oyelowo discussed what would happen if a biracial marriage took place in today's Royal family. He told IBTimes UK: "I think with the dynamic as it is, there would be less resistance to a white lady marrying an African dignitary; but the other way around would be an interesting thing to explore."
On his most memorable moments making the movie directed by Amma Asante and based on real-life events, Oyelowo says it had to be working with Rosamund Pike, the 47-year-old actress who plays his onscreen wife, Ruth.
He continued: "My favourite experience of doing the whole film was any scene I had with Rosamund. The reason I say that is because those scenes were when the film got boiled down to its essence. The political scenes are of course necessitous — and give the film its context — but they are the back drop.
"The heart of the movie is the love between these two people and that is the part I could relate to most, being happily married myself and deeply loving my wife. That's what we don't get to see enough of in my opinion. You see a lot of lust in movies and not necessarily love."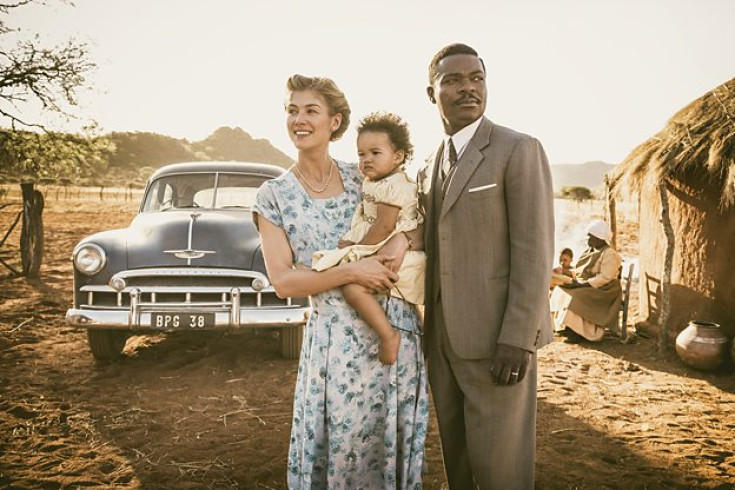 The actor also spoke about Khama's marriage and its influence on racial equality. He explains: "It was a milestone in racial equality — but not because they set out for it to be. I mean, these were just two people who fell in love and didn't anticipate the fallout that ensued. But, I think beyond it, certainly Botswana was never the same.
"It was an ultimate victory for Bechuanaland — or Botswana as it's now called — and as a result, a lot of political refugees ended up in Botswana because this situation with Ruth and Seretse really declared itself as a country that opposed a Partide. Britain had to really reassess apartheid through the love of these two people.
"I don't think the racial equality you now feel in Botswana would be the case, so that to me is the power of love," he added.
Comparing his role to Selma, where he played Martin Luther King, Jr, Oyelowo said: "Both men are leaders, both men have to bang out a speech now and again! With A United Kingdom, what I really loved about it, is that it's a love story, and so therefore it is far more relatable to an average person.
Watch our full interview with A United Kingdom's Rosamund Pike here.
A United Kingdom is in cinemas from 25 November.