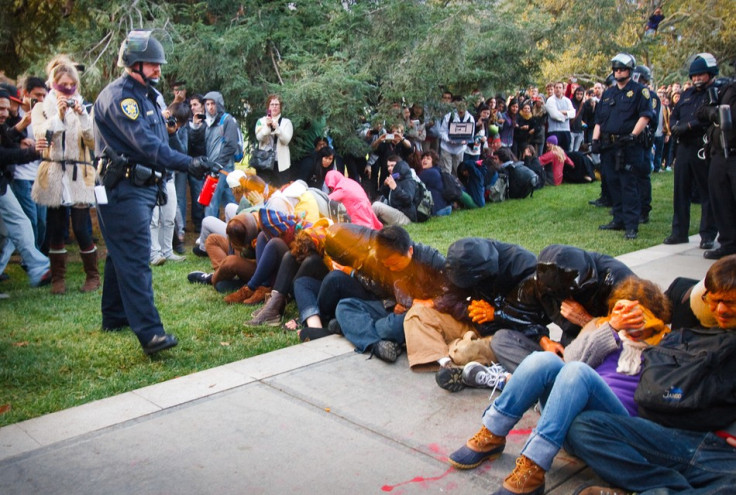 University of California students have blasted as "insulting" efforts by their publicly funded school to rewrite history and pay to erase mention of a mass pepper-spraying of protesting students by police.
Images of peaceful demonstrators protesting income inequality at UC Davis in a sit-in and being sprayed for several seconds full in the face by officers wearing riot gear went viral after the incident in 2011.
Now the school is being accused of censorship after the Sacramento Bee revealed that the university hired a communications firm on a $15,000 (£11,000)-a-month contract with the goal of eradicating "references to the pepper spray incident on Google", and any "negative search results" for university chancellor Linda Katehi.
"This was a moment of resistance," student Tom Zolot said of the campus-wide protests he participated in and the pepper-spraying incident. "This was a moment of shame." He said the expenditure of public money on PR firms to seek to conceal the incident from search results was "vastly inappropriate".
The Bee investigation found that the university, a state-funded institution that has faced severe budget cuts, paid the Maryland-based Nevins & Associates communications firm $93,000 to work on its "online reputation" relating to the spraying incident and surrounding controversy.
The university later signed other contracts with a Sacramento firm to improve its online image. In total, there were more than $175,000 in contracts to boost the university's online reputation.
UC Davis issued a statement after the story saying that "increased investment in social media and communications strategy has heightened the profile of the university to good effect". It's important that the good work of the university not be lost during a campus crisis, the statement added, "including the crisis that ensued following the extremely regrettable incident when police pepper-sprayed student protesters in 2011".
The spraying of the peaceful protesters was videotaped by several bystanders and quickly went viral, becoming the top trending topic on Google and broadcast on TV news programmes around the world. As students screamed and coughed, the surrounding crowd began to chant: "Shame on you."
University police later dropped all charges against protesters, and the school paid for the medical bills of students who required treatment for the spray.