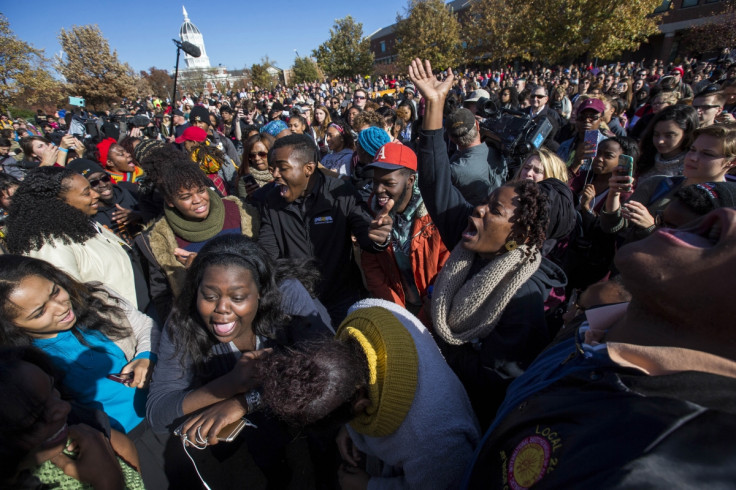 The University of Missouri's system president Tim Wolfe was forced to resign on 9 November amid growing protests by students over the lack of response by the administration on several incidents of racism on campus. African-American students called for Wolfe's resignation, while the university's American football team went on strike and the faculty threatened to walk out.
"I am resigning as president of the University Missouri system," Wolfe said in a surprise announcement during a special Board of Curators meeting on 9 November. "My motivation in making this decision comes from a love of Columbia where I grew up and the state of Missouri. I thought and prayed over this decision. It is the right thing to do... The frustration and anger I see is real, and I don't doubt it for a second."
The special meeting had been set to addressing the growing crisis at the state's flagship university, USA Today reported. The board voted in favour to accept Wolfe's resignation.
The students's protests were praised by White House press secretary Josh Earnest, The Washington Post reported. Earnest said the protesters showed that "a few people standing up and speaking out can have a profound impact on the places where we live and work." He added that it would require continued "hard work" to ensure that progress continued at the university and discussed similar debates occurring in other universities, such as Yale University.
According to The Post, tensions on campus were high on 9 November, with a student on hunger strike, faculty cancelling classes, a petition and a boycott. The Missouri Students Association also had called for Wolfe's removal. After announcing his resignation, Wolfe said the situation escalated because "we stopped listening to each other". He added, "Change comes from listening, learning, caring and conversation. We have to respect each other." However, he noted that he took full responsibility for the frustration on campus.
Wolfe's departure was meet with celebration by students and a return of the football team, the university's athletic department announced in a statement. The team will return to practice on 10 November in preparation of its game against BYU on 14 November. USA Today reported that cancelling the game would have cost the university more than $1m.