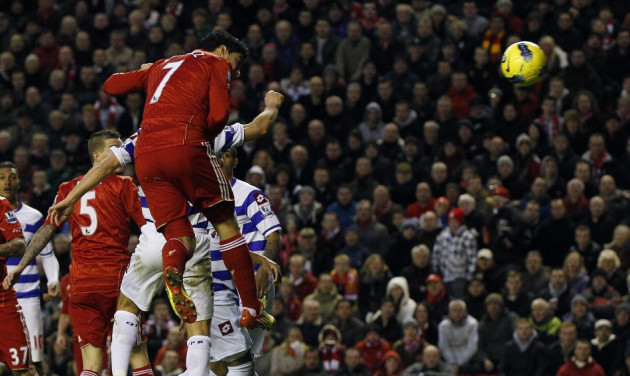 Neil Warnock has emerged as an improbable ally in Luis Suarez's on-going fight against football's authorities.
The 24-year-old Liverpool striker netted his first goal in the Premier League since 1 October as the Reds beat QPR 1-0 to end a sequence of four successive home draws.
Suarez put in another impressive all-round performance, which was capped by his 47th-minute header to end a run of seven games without a goal.
In that period Suarez has accumulated two FA misconduct charges, one for making alleged racist comments to Manchester United defender Patrice Evra and the other for an apparent offensive gesture directed at the home support after Monday's defeat to Fulham.
However, QPR manager Warnock, himself no stranger to controversy, spoke out in Suarez's defence on Saturday evening after his QPR side were taken apart by the striker's dazzling performance.
"He is a foreign player in a foreign country. The crowd away from home gives him so much stick and he should be protected from that as much as possible," Warnock said.
"Yes, he's got to learn he cannot be making gestures but, bloody hell, the stick he gets it is about time someone did something about it."
For Warnock to emerge in support of the Uruguayan is all the more surprising given the QPR manager's history with Liverpool.
The Englishman still believes then-Liverpool manager Rafa Benitez's understrength team selection for a game at Fulham late in the 2006/07 season was responsible for his Sheffield United side's relegation.
There was also a notable on-field confrontation with Stephane Henchoz over allegations the Liverpool defender spat at Warnock after a League Cup semi-final defeat to United.
But the QPR manager put aside previous grievances to Suarez's recent form, saying the striker has the potential to be a "£70m player."
"He has got everything and gives 100 per cent every game. He never lets the defender settle. Whatever they paid for him it was worth every penny," Warnock added.
"His finishing wasn't so good, but he still won the match. If he scored every chance he would be worth £70m wouldn't he? He was head and shoulders the best player on the pitch."
However, for all of Suarez's inventive link-up play, the striker spurned a number of guilt-edged chances on Saturday that threatened to extend Liverpool's mediocre home record this season.
Manager Kenny Dalglish was characteristically non-committal on the subject of his side's profligacy but cautioned he was unlikely to venture into the transfer market in January.
"We did miss some chances, yes, but the goalkeeper saved a lot of them too," said Dalglish.
"Do I feel the need to go out and do something about that? Aye, whichever side comes along here next, we'll ask them to come without a 'keeper. That's the best way to do it, isn't it?
"Irrespective of what I say, it's not going to stop speculation we are going out in January to sign Joe Bloggs up front, or whoever. I don't need to say anything. For us it was a fantastic team performance. We are quite happy. I trust the players implicitly when it comes to scoring, implicitly."