Angela Lee's storied rise in mixed martial arts continues after successfully defending her ONE Championship atomweight title against Istela Nunes – despite spending the week on antibiotics due to illness.
20-year-old Lee, who became MMA's youngest ever world champion when she won her title in May 2016, returned to her spiritual home Singapore to defend her title for the second time against two-time muay thai world champion Nunes at ONE's Dynasty of Heroes card.
It took her until the second round to break down Nunes after a spirited start from the Brazilian but victory number eight for the rising star of women's MMA felt inevitable, submitting her opponent in the second round after forcing the tap with a devastating anaconda choke.
Lee's latest triumph is all the more impressive given she struggled with illness the days ahead of fight night, prompting some self-doubt for the first time in her career.
"There was a lot of things that happened leading up to this fight, a lot of things I didn't have control of," Lee told reporters backstage. "I actually got really sick leading up to this fight and was on antibiotics so I was fighting through that, it was just a very tough battle with myself and overcoming my own doubt. But I trusted in my training, trusted in my coaches and went out there and got the job done.
"Now with my title defences, I really want to go out there and make a statement. That's what I did tonight."
Lee fed off an electric sell-out crowd at the Singapore Indoor Stadium on Friday night, enhanced by an appearance from Singapore's first ever Olympic gold medallist Joseph Schooling, who accompanied the champion to the ring.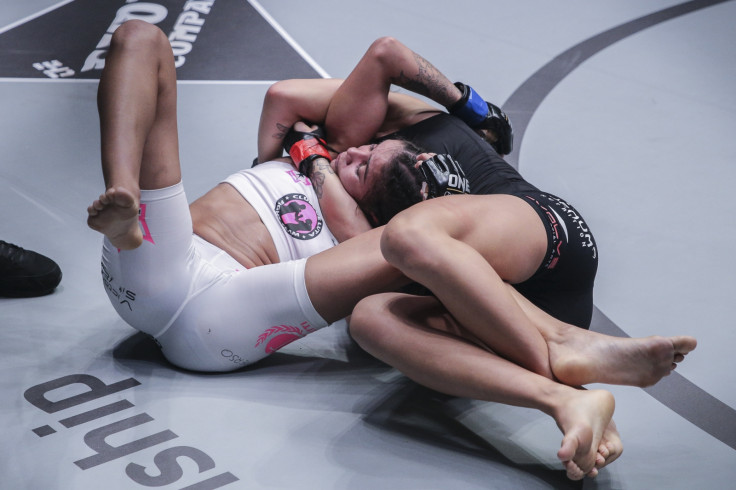 "There's always pressure, always nerves especially in Singapore. But when I looked out tonight, it was electrifying, I took on all that energy and used that as a motivating factor to give me energy in my fight."
After a tough fight camp complicated by her bout of illness, Lee now plans to take some time off before rushing back into the cage.