ONE Championship CEO International Victor Cui insists it is business as usual for his organisation ahead of UFC's imminent return to Asia.
Rising star Angela Lee and former Bellator champion Ben Askren headline ONE's Dynasty of Heroes card at the Singapore Indoor Stadium on Friday (26 May) but in three weeks' time, UFC head east to host their first event in Asia in 2017 at the very same venue.
Former bantamweight world champion Holly Holm will feature on the first of two scheduled events to take place on the continent this year, with Rafael dos Anjos also making his debut at welterweight as the Las Vegas-based promotions attempts to muscle its way back into the Asian market after a series of missteps in recent years.
But having helped build ONE into Asia's biggest MMA promotion, Cui trusts his company to keep delivering ahead of their their rivals.
"When we started ONE Championship, UFC was already in Asia, they were here two or three years before us. It's not like it's a new thing for me, Cui told IBTimes UK. "When ONE was conceptualised, UFC was already in the market, it is not as if we have woken up this morning and gone: 'Oh my God, UFC, what is that?'
"They were here before us, but our plan and focus was building what we felt was right for the ONE Championship DNA, what we think is right for our fans about the sport of martial arts. Promoting the values, of integrity, respect, loyalty, dedication, humility, all things important to martial arts in Asia.
"I've never really been worried about what UFC's plans are. For us, it's exciting to see our events completely sold out, that is a strong indication of how strong our fan base is. We just keep doing what we are doing."
In March, IBTimes UK asked ONE chairman Chatri Sityodtong about the prospect of one day holding crossover fights with UFC. It was met with an enthusiastic response, with Sityodtong inviting UFC boss Dana White to pick up the phone and discuss the possibility of ONE's atomweight champion Angela Lee taking on UFC strawweight champion Joanna Jedrzejczyk.
Cui is also receptive to the idea, but warned the realities of making such a deal will inevitably encounter complications.
"I think it's always interesting to talk about it and why not explore it? I'm not as close minded to think that nothing is ever possible, it's an interesting discussion. If you look at the realities and the practicalities of it, that's a whole different thing. Is there a good academic discussion of opportunities to be had? Yeah, absolutely. Would I be open to it? Sure, why not. If it makes sense for our fans, if it makes sense for our sponsors and television, of course.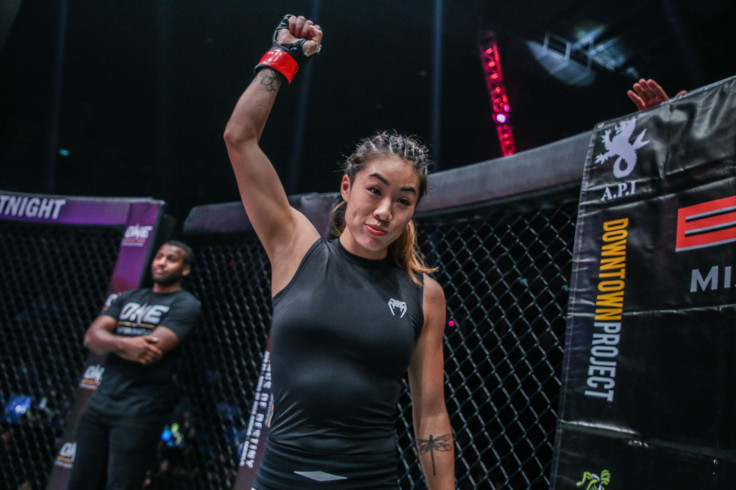 "But there are other realities between agents and athletes that come into play, it's difficult to juggle. That why cross promotions are difficult to do. At the end of the day, you want to be able to build athletes and heroes that also help the company, not just some sort of one off thing," said Cui.
Lee will defend her atomweight title for the second time against Istela Nunes on Friday on a card which also marks Ben Askren's return to the cage. The ONE welterweight champion will defend his belt against undefeated 21-year-old Agilan Thani in what he hopes is the first of a string of fights in 2017, having endured a frustrating two years that saw a succession of fights cancelled.
"Let's first get past Friday," Cui said of plans for the former Bellator champion. "We want to keep our champions as active as possible and making sure they stay active and have opportunities. When you have an athlete, there are so many things to juggle, not only getting the right opponent, the right card for them to compete on, but also their health and what they are doing in life.
"Sometimes they are getting married, they are having a kid. These are all these factors. Having every athlete at 100% and ready to go at the snap of your fingers; it's not like that. Everyone has their own life, you have to get all things to line up."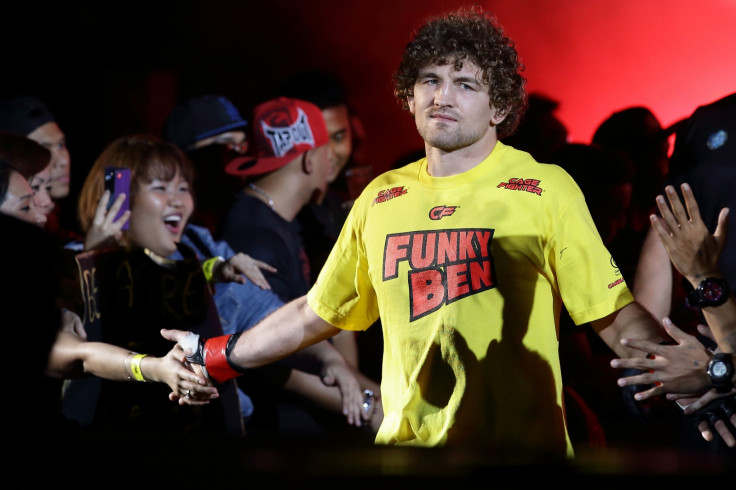 Speaking to IBTimes UK this week, Askren called out the man who he says, "ruined his 2015" in Luis 'Sapo' Santos. After their 2015 title bout ended in a no contest after an accidental eye poke, Santos missed weight ahead of a rematch later that year before turning down the fight on renegotiated terms. But a second meeting between the two could beckon this year.
"I'd like to see it happen. Our matchmaker [vice-president of operations] Matt Hume is looking at that, that's why he [Santos] is on the [Dynasty of Heroes] card. He has a 3-0 record in ONE Championship, he's a great highlight reel. He's an exciting athlete so I think that matchup makes sense. So if we can make it happen and both them and their managers agree to it, I think the fans would want to see and it would be good to deliver that."