Urban Outfitters has been found selling a T-shirt which is "eerily reminiscent" of the uniforms worn by gay prisoners at Nazi concentration camps.
The retailer has been urged to withdraw a striped shirt from sale that features an upside down pink triangle on its right side by a campaign group.
Abraham Foxman, national director of the Anti-Defamation League (ADL), said: "Whether intentional or not, this grey and white striped pattern and pink triangle combination is deeply offensive and should not be mainstreamed into popular culture.
Foxman, himself a Holocaust survivor, added: "We urge Urban Outfitters to immediately remove the product eerily reminiscent of clothing forced upon the victims of the Holocaust from their stores."
The garment does not appear to be available on the company's website. The ADL claim the shirt was being sold in a store in Colorado.
Urban Outfitters president Richard Hayne said he is concerned by the "insensitive design and the company's periodic use of products within the realm of Holocaust imagery".
IBTimes UK has requested further comment from the retailer.
This is not the first time Urban Outfitters has come under controversy because of its clothes.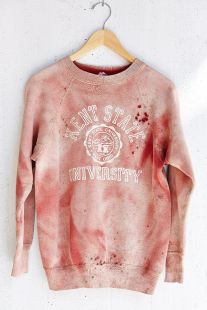 Urban Outfitters came under fire from the ADL in 2012 after it was found selling a T-shirt with the Star of David on its side, reminiscent of how Jewish people were forced to wear the symbol in Nazi Europe.
"We find this use of symbolism to be extremely distasteful and offensive, and are outraged that your company would make this product available to your customers," Barry Morrison, ADL regional director, said at the time.
In September 2014, Urban Outfitters was also forced to apologise for selling a red "vintage" Kent State University sweatshirt that looked like it had blood splatter.
In 1970, Kent State University was home to the May 4 Massacre in which four unarmed students were shot by Ohio National Guard members during protests against military action in Cambodia.
In August 2014, clothes retailer Zara was forced to remove a child's T-shirt from sale following complaints the six-pointed star stitched on to the upper-left-hand side of a striped long sleeve T-shirt resembled attire worn by Jewish people during the Holocaust.