Twelve people have been injured, four critically, after a five-storey building collapsed in New York City.
An explosion in the commercial property in Manhattan's East Village caused flames and smoke to billow from the building.
More than 30 fire units responded to the incident and 130 fire-fighters battled to contain the blaze, but had to retreat after the flames became too intense, local news station WABC reported.
Witnesses described a scene of pandemonium as the emergency unfolded, near New York University.
"We heard a big sound, then three or four people fell on the street," Shameem Noor told Reuters news agency. "People were running and screaming. There's a big fire on the roof and black smoke."
Six people were seen lying on the pavement injured, surrounded by shards of broken glass from a blown out Asian restaurant. The majority of those injured were hurt at the moment of explosion, authorities said.
Casualties were being carried on stretchers from the wreckage at 125 Second Avenue. Two have been taken to the burns unit at New York-Presbyterian Hospital Cornell.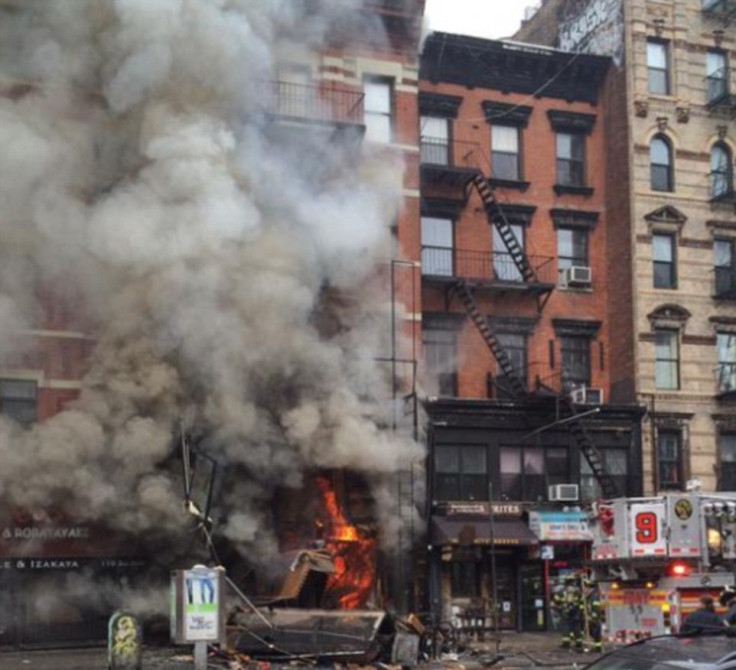 More people could still be trapped inside the burning buildings, but Major Bill de Blasio said at a press conference that no one had been reported missing.
It is not clear what caused the incident, which unfolded shortly before 3:30pm local time. Officials are at the scene investigating whether a gas leak is to blame.
The area in Manhattan's East Village is being evacuated.