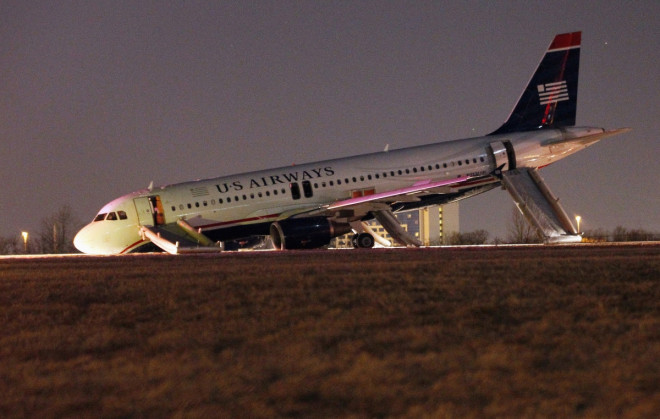 A US Airways plane, an Airbus 320, escaped a major accident moments before it was about to take off from Philadelphia.
The plane with 149 people on board had its nose gear collapse on the runway at Philadelphia International Airport. However, no one was injured in the incident.
"Initial reports indicate Flight 1702 from Philadelphia to Fort Lauderdale blew a tire and takeoff was aborted," the US Airways said in a statement.
"Our crew safely evacuated the passengers and one person has requested medical assistance. We are re-accommodating passengers on a new aircraft."
According to local media reports, the plane came to rest off the runway after the incident.
"The plane went up, came back down a little bit the first time... [It] went up the second time, and then ... went straight back into the ground," a passenger named Will Jager told CBS Philadelphia.
Jager said that the incident created panic amongst the passengers to get off the plane first. They also saw smoke coming out of the engine.
"Luckily everyone appears to have been wearing their seat belt. We didn't get thrown around too bad. Definitely a jolt on landing that we had somewhat braced ourselves for. It could have been a lot worse," he added.
The passengers and crew members were evacuated via emergency chutes after the plane landed.
"We put a protective foam blanket down around and underneath the aircraft due to hydraulic fluid that was leaking from the front landing gear," Gary Loesch, chief of philadelphia fire department, said.
"We removed the passengers and moved them approximately 400 yards off away from the airport into the field where we used our police vehicles, our fire department vehicles and the airport vehicles to surround the group and basically corral the passengers to protect them from the wind," he added.