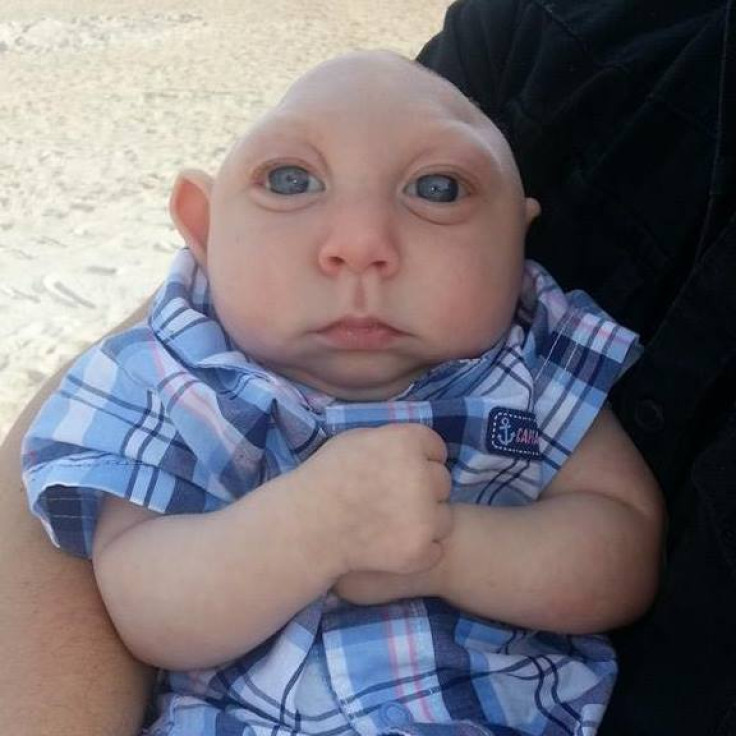 A baby born with missing brain parts and skull has defied all odds and survived to celebrate his first birthday. Diagnosed with a severe brain developmental abnormality, microhydranencephaly, doctors had predicted little chances of the baby's survival.
Born on 27 August 2014, Jaxon Emmett Buell was only given a few days to survive. However he is now miraculously teething and saying his first words. Jaxon's father, Brandon Buell, celebrated his son's milestone first birthday with his wife Brittany by sharing a note on a Facebook page dedicated to Jaxon.
"Jaxon has already shown how strong, smart, and special he is, accomplishing feats that doctors doubted he'd ever be able to do, shows improvements each and every day, and just reached a miraculous milestone in celebrating his 1st birthday. His perseverance and strength already shown is why we are calling his inspirational story, 'Jaxon Strong'...Thank you for any and all gifts, support and prayers given to Jaxon and our family. #JaxonStrong," read the note on the Facebook page.
The couple found out about the abnormality during Brittany's pregnancy and while they had the choice to abort the baby, they decided against terminating the pregnancy. Weeks before his first birthday, Jaxon reportedly stopped sleeping through the night and upon examination at a children's hospital in Boston, it was revealed that he is suffering with microhydranencephaly. He is now on new medication that allows him to sleep through the night.
"He's back to smiling at us, always so happy in the morning after he wakes up and takes turns looking at both Mommy's and Daddy's face, seemingly as if he is so excited to start another day. We believe the medical world will also benefit from Jaxon's story, from his rare neurological condition, and from his diagnosis, because we are certainly seeing firsthand how much there is still to learn about the human brain," said Brandon Buell, reported NY Daily News.
Meanwhile, social media users have poured in their support using #JaxonStrong.