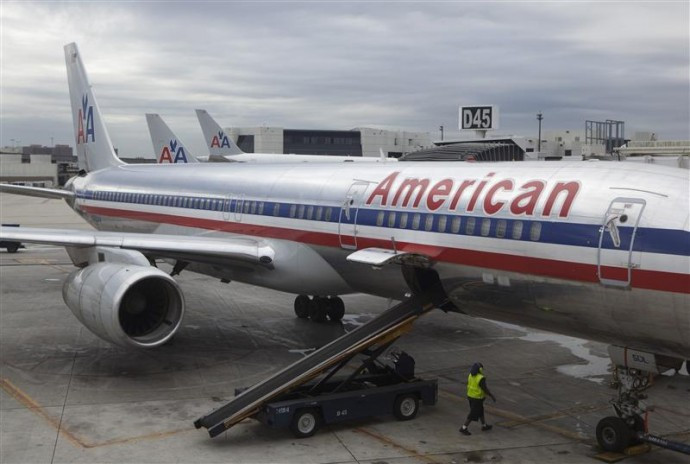 An American Airlines pilot was forcibly removed from the cockpit of a plane, moments before it was due to take off, after he was allegedly found to be drunk. The pilot was suspected of having a blood-alcohol level above the legal limit after taking an on on-site breathalyser test.
He failed two sobriety tests before being taken into custody, according to reports. Passengers at Detroit airport on American Airlines flight 736, described scenes of chaos as they saw the co-pilot being put in handcuffs by the side of the jet and detained by officials.
Delaney Bradley, who was on board the flight from Detroit to Philadelphia, said: "I happen to glance out the window and first I saw a police car. About five minutes later I saw them actually taking the pilot around side of the car and handcuffing him.
"There was a lot of scrambling," she added. "When we first got off the plane it seemed to be a lot of chaos. People trying to get answers, we knew we were going to miss our connecting flight. So it was a lot of chaos."
Another woman said: "Honestly I just couldn't believe it. I was speechless that something like that could happen and again that he could get that close to the aircraft."
American Airlines told ABC News: "This is a serious matter and we are assisting local law enforcement and the Federal Aviation Administration with the investigation. We will handle this matter appropriately as the safety and care of our customers and employees is our highest priority."
American Airlines said the flight from Detroit to Philadelphia was cancelled and customers were taking other flights. The airline apologised to any customers affected by the incident and added they were re-accommodating people whose travel plans had been disrupted.
Airport spokesman Michael Conway said the unidentified man, who is believed to be about 50-years-old and from Pennsylvania, was later released. Authorities will determine whether charges will be filed Sky News reports.
Just a month ago, American Airlines hit the headlines after a flight attendant deliberately started a fire in an aircraft bathroom on 1 February and later extinguished it in front of the flight crew to appear like a hero. The incident occurred on an American Airlines flight 1418 heading from Dallas to Detroit.