US-China talks: Trump's five top rants against China's economic miracle
US President Donald Trump says China's economic rise has been built on flouting international trade rules.
US President Donald Trump will hold face-to-face talks with China's leader Xi Jinping for the first time at the billionaire's Mar-a-Lago private members' club in Florida on Thursday (6 April).
The meeting is likely to be strained between the formal Chinese President and the shoot-from-the-hip property mogul, who makes no secret he believes China's economic rise has been built on flouting international trade rules.
Trump is indignant that the US-China trade relationship has been highly unequal for some time.
In 2016 alone, the US imported $480bn (£385bn) of goods and services from China – mostly consumer items like clothing, shoes, televisions, smartphones, laptops and tablets. Those imports keep prices low for American consumers.
In return, the US sold just $170bn (£137bn) worth of exports to China – including sophisticated machinery like aircraft and agricultural products like soybeans.
Between 2000 and 2007, US manufacturing jobs fell sharply, from 16.9m to 13.6m. The 2008 financial crisis pushed the number lower, to 11.2m, although the number has since been fairly stable.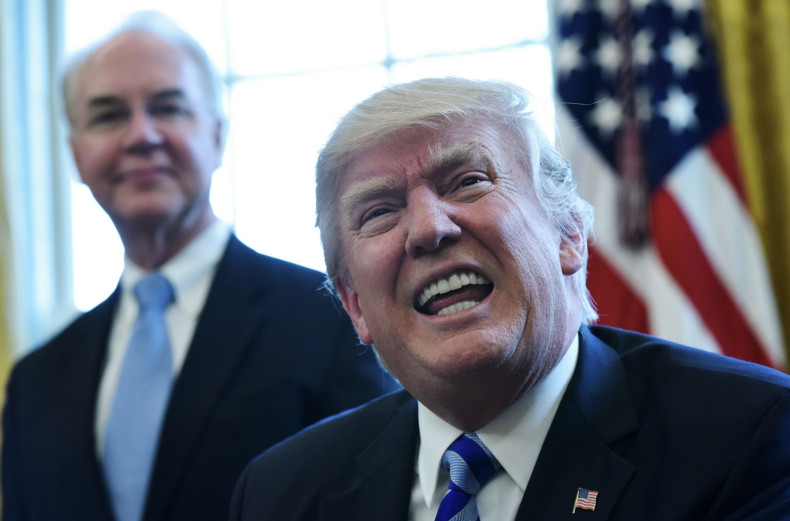 Trump has repeatedly called for a 45% tax on Chinese goods to address the trade imbalance between the US and China. But critics say China is likely to retaliate with tariffs of its own, which would lead to a trade war between the US, the largest economy in the world, and the communist state, which is the second-largest.
During the campaign Trump said he would formally name China as a currency manipulator on his first day in the White House, but he has backed off this, partly because for the past couple of years China has been intervening in markets to prop up its currency, the yuan, rather than push it lower, to make its goods cheaper.
Here are five recent blasts on trade the US President has sent across China's broadsides:
At a campaign rally in September 2015 he said: "I beat the people from China. I win against China. You can win against China if you're smart. But our people don't have a clue. We give state dinners to the heads of China. I said 'why are you doing state dinners for them? They're ripping us left and right. Just take them to McDonald's and go back to the negotiating table'."
At a rally in Indiana last May he told the crowd: "We can't continue to allow China to rape our country, and that's what we're doing. We're going to turn it around, and we have the cards, don't forget it. We have a lot of power with China."
During the first presidential debate in September he said: "They [China] are devaluing its currency and there's nobody in our government to fight them. They're using our country as a piggy bank to rebuild China. We have to stop our jobs from being stolen from us."
In December he tweeted: "Did China ask us if it was OK to devalue their currency (making it hard for our companies to compete), heavily tax our products going into...their country (the U.S. doesn't tax them)."
In January he tweeted: "China has been taking out massive amounts of money & wealth from the US in totally one-sided trade."
Traders do not expect much from the meeting between the two Presidents, even if they do lead the two largest economies in the world.
IG chief market analyst Chris Beauchamp said: "The meeting between Trump and Xi provides the opportunity for fresh worrying, although expectations are so low that anything short of a public relations disaster will be gratefully received."