The US has expressed serious concerns over the "militarisation" of the South China Sea after accusing China of placing batteries of missiles on a disputed island in the region. Commercial satellite imagery appeared to show Chinese deployment of advanced surface-to-air missiles on Woody Island, which is also claimed by Taiwan and Vietnam, sometime after 3 February.
China has refused to confirm or deny the allegations, only saying that it was pursuing the defence of its own territory. Beijing has grown increasingly assertive on maritime territorial disputes with south east Asian nations in recent years, with the country claiming most of the South and East China seas as part of its sovereign territory.
It has also built artificial islands in the middle of a reef system in the South China Sea known as the Spratly Islands – increasing tensions with Taiwan, Vietnam, the Philippines, Malaysia and Brunei, which all have overlapping claims on the territory.
'Serious concern'
"When President Xi [Jinping] was here in Washington, he stood in the Rose Garden with President [Barack] Obama and said China will not militarise in the South China Sea," US Secretary of State John Kerry was quoted as saying by the Wall Street Journal on 17 February.
"But there is every evidence, every day that there has been an increase of militarisation of one kind or another. It is of serious concern."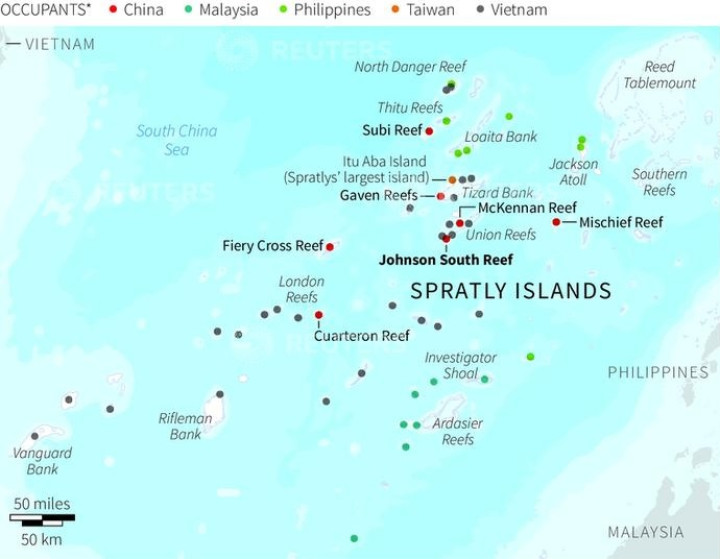 But Chinese Foreign Minister Wang Yi rejected the assertion that Beijing was militarising the region, saying his government was only "deploying limited and necessary national defence facilities on its own territory", according to the state-run Xinhua news agency.
He accused the Western media of blowing the issue out of proportion and called for more attention to be directed to the lighthouses and emergency facilities for weather forecasting that have been built by Beijing in the South China Sea.
A State Department spokesman said Kerry would raise his concerns with Wang in the near-future.