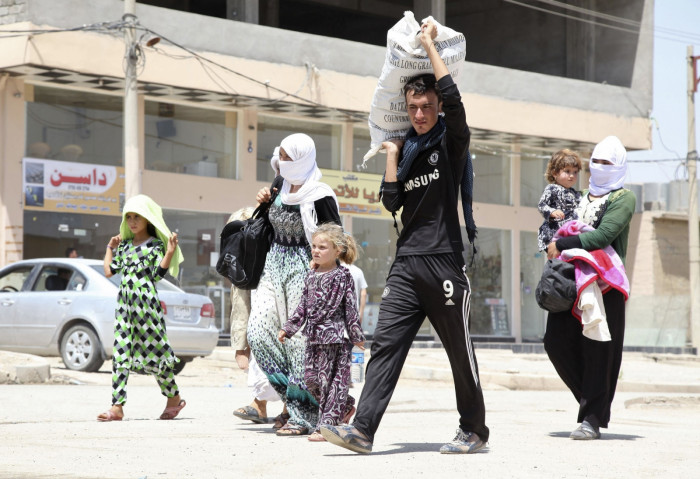 President Obama has responded to the humanitarian disaster unfolding in northern Iraq, with the White House hinting airstrikes or aid drops are being considered to ease the plight of local minorities fleeing the advance of Islamic State (IS).
According to some reports airstrikes are already underway - claims the White House denies.
Around 200,000 Yazidi have fled the Islamic State advance in the last few days, with 40,000 - including 25,000 children - believed stranded on the mountains with little food, water or shelter.
Iraq's government has dropped some supplies from helicopters, but unless they receive more help soon, many more could die. One man told Sky News: "they are leaving dead children behind".
Yazidi politician Vian Dakhil broke down in parliament as she appealed for the international community to protect her people: "We are being slaughtered, our entire religion is being wiped off the face of the earth. I am begging you, in the name of humanity."
Islamic State view the Yazidi, who claim to be the world's oldest religion, as "devil worshippers" and apostates and have already massacred around 500 in the town of Sinjar. The group were being protected by Kurds, but were overrun by the Islamists, who are attempting to create a caliphate in the region.
In a statement, United Nations Children's Fund spokeswoman Juliette Touma said: "The stresses are enormous; dehydration, fatigue, people sometimes having to walk for days. The impact on kids is very physical, let alone the psychological impact."
Christians have also been targeted by the Islamists. Mosul is now almost totally empty of Christians following the arrival of IS, who gave them three choices: flee, convert, or die. Pope Francis has appealed for the international community to step in and protect Iraq's Christians from the Islamist threat.
US troops left Iraq in 2011, eight years after the invasion, but the spreading threat of IS has gravely concerned many not only in the west, but also among Iraq's neighbours.
Although "boots on the ground" are being ruled out, White House spokesman Josh Earnest said: "The situation is nearing a humanitarian catastrophe. We are gravely concerned for their health and safety."