The monstrous winter storm Jonas pummelling the US East Coast has caused travel chaos disrupting flight schedules and domestic transportation. Eighteen deaths have been reported so far as major areas are under one foot of snow.
According to the tracking website, FlightAware, 10,200 flights have been cancelled through the weekend. Airports in Philadelphia, Baltimore and Washington stopped operations on Saturday, 24 January. The blizzard with hurricane-force winds would affect nearly 80 million residents in its path.
Many flights have been cancelled at the three major New York-area airports – LaGuardia, John F. Kennedy and Newark Liberty – however, they remain partially open. At least 11 state governors have declared emergencies with a travel ban in place. State of emergency will also be in force in Georgia, Tennessee, Pennsylvania, Maryland, Kentucky, North Carolina, New Jersey, New York, Delaware, Virginia, and West Virginia while Washington has declared a "snow emergency".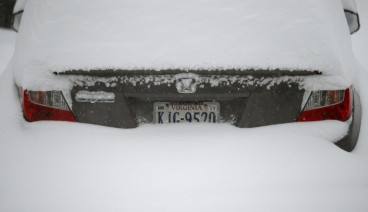 United Airlines, one of the US's largest operators, said: "United will not operate Saturday and Sunday [Sunday and Monday in the Eastern Hemisphere] service at Dulles and other Washington metro area airports and expects to gradually resume service on Monday."
Roughly 150,000 peoplehave been left without power supply in the region. "In the grand scheme, everybody is getting a big snowstorm. Treat the storm with respect. The winds are really going to be whipping up today. Snow continues to fall. Stick close to home. Don't go out alone," Patrick Burke, forecaster at National Weather Service's College Park, told the Wall Street Journal.
The winter storm is smashing all snowfall records paralysing lives of residents in more than 20 states. "We have to prepare for an even worst-case scenario... and be ready if it goes even farther," said New York Mayor Bill de Blasio.