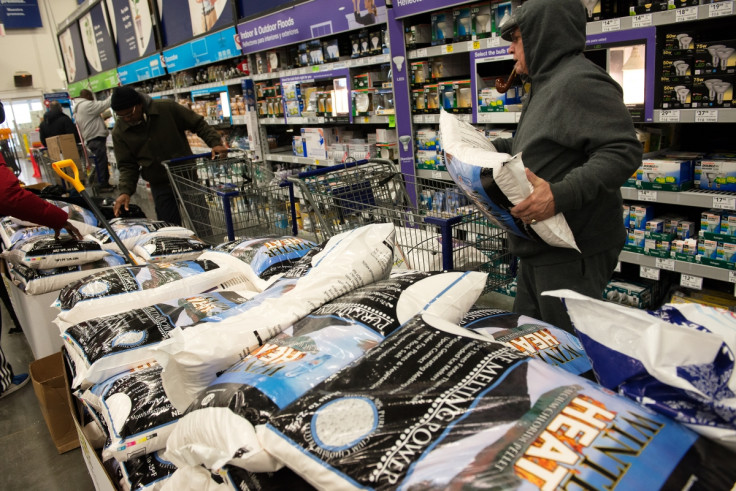 Winter storm Jonas, which is threatening the north-eastern US with 2ft of snow and 60mph winds, is making residents of the north-eastern US to stock up on groceries, shovels, snow blowers and salt. Storm Jonas has already claimed the lives of nine people, leading to 10 states and Washington DC declaring states of emergency as public services are pushed to their limits, and thousands of flights being cancelled.
The blizzard – which is predicted to be one of the most brutal snowstorms in 100 years – is set to affect up to 75 million people in, with the bad weather set to continue until Sunday. Storm Jonas has already hit Washington DC, where the city's mayor order the public transport system closed.
Washington's mayor, Muriel Bowser, said this was a storm with "life and death implications" for his city.
North Carolina has also reported 928 car crashes and 1,400 calls for help between over 13 hours.
Sales of beer, wine and liquor have gone through the roof as householders organise so-called #blizzard2016 parties. Petrol stations have also been running low on fuel because of panic buying and snow-related equipment have all but disappeared from shelves.
New York is the most populous city that the storm will affect. Mayor Bill de Blasio has warned New Yorkers to stay at home as 2,400 snowploughs that will spread more than 300,000 tons of rock salt. He said on 22 January: "We are bracing here in New York City for the first big snowstorm of this winter. Get done what you have to get done today."
As the extreme weather approached, supermarkets in the city ran out of food such as bread, meat and eggs as residents stock up until Monday. More than 6,000 flights have already been cancelled around the US from Friday until Saturday night as the storm is set to affect states from Arkansas in the south to Massachusetts in the north-east.
Home Depot worker Audrey Cassadean said the store has been selling salt by the truckload and Friday's batch sold out in one hour. She said to the New York Daily News: "I've got water, food, salt, shovels — and muscles to go with that. I've learned after living in New York. I've learned to always be prepared."
The FDNY have said that they will have 500 personnel on duty during the storm with NYPD boats ready to assist in rescues, officials said. The subway system remains open at the moment – though this may change.
In the state of Maine, north of New York, the local Police force had to post an eight-point-plan to Facebook that warned residents of the dangers of panic-buying: "DO NOT, I repeat, DO NOT buy all the bread on the shelves. As a lifelong Mainer, I recommend cereal… will need milk and, of course, a bowl and spoon. You probably already have that in the house."
The storm is feared to bring dangerous inland flooding, white-out conditions and even the possibility of so-called "thunder snow", when lightning strikes through a snowstorm. Weather Service director Louis Uccellini said that the storm could cause more than $1bn (£700m, €930m) in damage to homes and property.