Early voting in the US suggests the 2016 election could mark a "historic" win for the Democrats, according to British bookies.
"Many commentators have highlighted an evaporating confidence in the Republican campaign during recent weeks," wrote Betfair, a London-based internet betting firm, in a statement, "as scandal after scandal has rocked Donald Trump."
The first results are "already pointing towards a historic victory for the Democrats and Hillary Clinton," Betfair said. Polls open early in many American states — from four up to 50 days prior to Election Day.
Early voting in Texas, the second largest state, broke records this week, with more than 84,000 people casting ballots in 10 Texas counties, where unusually large lines grew at polling stations.
With just 12 days to go until the election November 8, results in swing states North Carolina and Florida are pointing toward a Clinton advantage. Fortune magazine has said that it will seal the presidency for Clinton if she takes those states. Early voting results are gathered based on the political affiliation of those who have cast their ballot.
The Trump sex scandal that emerged in October with sexual assault allegations, and video clips of the candidate saying he could get away with groping women because he is a star, has hit the Republican's campaign hard. Support among Republican women has eroded.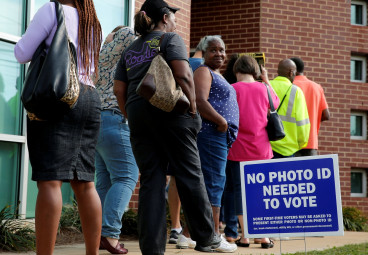 Betfair's market shows Clinton with an 82% chance of winning compared to 18% for Donald Trump. "That may sound one-sided but, compared to some of these other models, Betfair punters are actually less dismissive of Trump," according to Betfair's Paul Krishnamurty.
Other vote projections like the NYT Upshot and Fivethirtyeight forecasts show even larger chances for Clinton.
"At 2/11 Clinton would appear to be safe, but this two-horse race isn't over yet according to the cash being wagered on both candidates," said Jessica Bridge, a spokesperson for British betting shop Ladbrokes, in a statement to CNBC.
"Trump's odds have been drifting like a barge with the bookies in the past few weeks," she said, "however it looks like punters are hedging their bets thanks to the big prices on offer."
More than £75 million ($91.6m) has been wagered with Betfair.
"While an early lead for Clinton does not bode well for the Republicans," Betfair said in a statement, "perhaps a more worrying fact for the Trump campaign is the lessening of support among his own party that has been so prevalent in recent weeks."