US secretary of state John Kerry and Israeli prime minister Benjamin Netanyahu have reportedly agreed on a deal to salvage stalled peace talks with the Palestinians and extend them for one year.
The breakthrough on the deal is the US release of Jonathan Pollard, who is serving a life sentence in a US jail for spying for Israel. According to Israeli officials quoted by Haaretz, the US will release Pollard before the Passover holiday (14 April).
Pollard, who was arrested in 1985 for giving classified documents to Israeli handlers while working as US Navy intelligence analyst, said he opposes such a "shameful deal".
Pollard was granted Israeli citizenship in 1995.
Kerry is desperately trying to spearhead efforts to break the current stall in peace talks after Israel failed to press ahead with the promised release of several dozen Palestinian prisoners, the last among the 104 it pledged to free.
Israel wants a guarantee that Palestinians would not abandon the talks.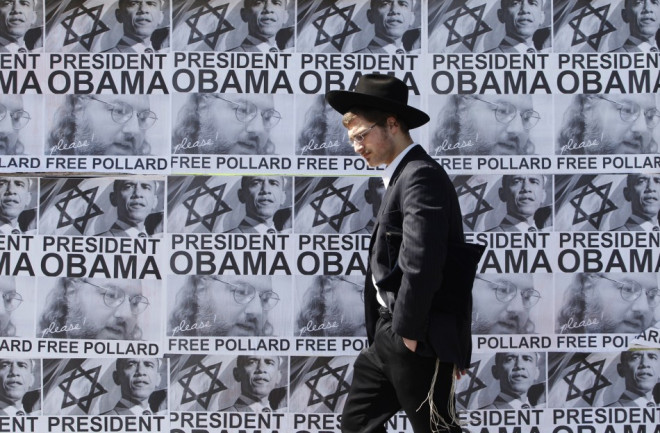 A senior Israeli official told Haaretz newspaper: "The key would be a big US concession for a big Israeli concession".
As part of the deal, the Palestinians will agree to extend the negotiations by a year and avoid unilateral moves at the UN. Israel will release the fourth group of Palestinian prisoners, which includes 14 Israeli Arab prisoners and another 400 Palestinian prisoners who are serving lighter sentences (women and minors).
Israel will also freeze most of the construction in the settlements, excluding the area in East Jerusalem.
The Daily Beast reported that Kerry brought forward the proposal of releasing Pollard months ago but faced opposition from the White House.
Kerry had separate talks with Netanyahu and Palestinian chief negotiator Saeb Erekat.
The focus of his mission has changed from reaching a framework agreement on the peace deal to just keeping both sides talking.
US defence and intelligence officials have long argued against releasing Pollard.
White House spokesman Jay Carney declined to discuss any possible deal.