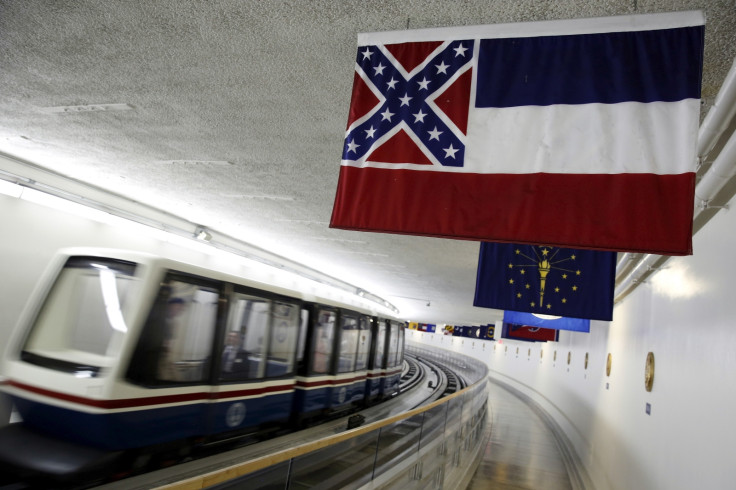 A US federal judge on Thursday (8 September) dismissed a lawsuit that challenged the constitutional validity of the Mississippi state flag. District Judge Carlton Reeves said that attorney Carlos Moore, who filed the suit, failed to prove the emblem caused a "cognizable legal injury".
Moore, a 39-year-old African-American from Grenada, Mississippi, had filed the lawsuit in February alleging that the Confederate battle emblem in the canton of the flag violates the 13th and 14th amendments of the constitution.
However, Reeves did not find Moore's point strong and said, "Moore's arguments are phrased as constitutional claims, yet his allegations of physical injuries suggest that he is making an emotional distress tort claim."
"To succeed in constitutional litigation, however, Moore needs to identify that part of the Constitution which guarantees a legal right to be free from anxiety at State displays of historical racism. There is none," Reeves ruled.
However, Reeves also noted that flag supporters could not argue that Mississippi's secession from the union before the Civil War had nothing to do with slavery. He quoted the state's 1861 secession declaration that stated, "Our position is thoroughly identified with the institution of slavery — the greatest material interest of the world. To put it plainly, Mississippi was so devoted to the subjugation of African-Americans that it sought to form a new nation predicated upon white supremacy."
According to reports, Mississippi has been using the same flag since 1894. It is the last state flag in the country that prominently features the emblem. However, it came under increased scrutiny after the June 2015 killing of black worshippers in South Carolina.
The man found guilty in the attack had posed with the Confederate battle flag in photos posted online. Since then, a number of cities along with counties and seven of Mississippi's eight public universities have boycotted the state flag.
"The emblem offends more than just African-Americans. Mississippians of all creeds and colors regard it as 'one of the most repulsive symbols of the past.' It is difficult to imagine how a symbol borne of the South's intention to maintain slavery can unite Mississippians in the 21st century," Reeves, who himself is black, said in his ruling and added: "The Confederate battle emblem has no place in shaping a New Mississippi, and is better left retired to history."
Moore is yet to decide whether to appeal against the ruling to the 5th US Circuit Court of Appeal in New Orleans.
"I'm disappointed that my daughter, for the foreseeable future, still has to live under a regime with an offensive Confederate emblem on the Mississippi flag," Moore said while showing his disappointment over the judgement.