US Man Zale Thompson With Alleged Islamic Extremist Ties Attacks NYPD Officers With Axe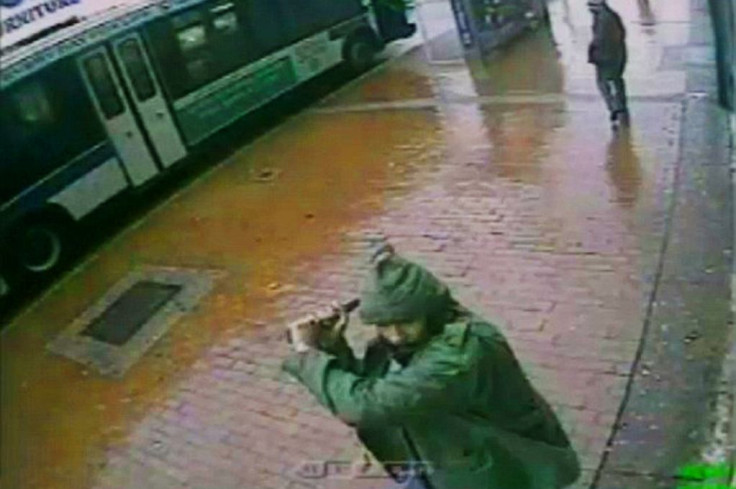 A man who attacked two New York police officers with an axe may have had ties with Islamic extremists, US police claim.
Police have named Zale Thompson as the man responsible for yesterday afternoon's attack in Queens, New York.
The 32-year-old from New York allegedly struck one of the officers in the back of the head with the axe and gashed the arm of another after running at them from behind a bus shelter as they were posing for photographs with a member of the public, said police commissioner Bill Bratton.
Police sources told CNN that they were investigating whether Thompson had attacked the officers in response to calls from jihadists to target police and military in the West.
After the attack, two officers then gunned down Thompson, killing him, but accidentally hit a nearby female pedestrian, whose condition remains critical.
The officer suffered two skull fractures.
With the world reeling from the attack on Canada's parliament the day before from suspected jihadist sympathiser Michael Zehaf-Bibeau who killed a soldier before being shot dead, police believe that Thompson may have had jihadist ties.
The Ottawa attack follows an assault by another alleged Islamist sympathiser, Martin Couture Rouleau, who drove his car into two soldiers near Montreal, killing one.
Sources told Vocativ Thompson's online chatter suggested ties to a radical US-based Islamist, who has advocated anti-Western violence.
On his Facebook page, Thompson claims that he studied at the college of New Rochelle and High School of Graphic Communication Arts, and is from Queens.
Police sources told CNN that Thompson had a criminal record in California and had been discharged from the navy for misconduct.
Vocativ reports that Thompson has posted comments supporting violent jihadism on his social media accounts.
"If you're looking for 'perfect' Muslims who never make any mistakes in their Jihad, then you will be looking in vain! If the Zionists and the Crusaders had never invaded and colonized the Islamic lands after WW1, then there would be no need for Jihad! Which is better, to sit around and do nothing, or to Jihad fisabeelallah!" he posted on his YouTube account in response to a jihadist propaganda video.
Asked about whether Thompson was linked to terrorist groups, Bratton said, "There is nothing we know as of this time that would indicate that were the case. I think certainly the heightened concern is relative to that type of assault based on what just happened in Canada."
Officers in New York were ordered to maintain a "heightened level of awareness" following the Ottawa attacks and US President Barack Obama had previously spoken of the danger posed by 'lone wolf' terror attacks, from jihadists inspired by Islamist extremists but with no direct ties to terrorist groups.
"It emphasises the degree to which we have to remain vigilant when it comes to dealing with these kinds of acts of senseless violence or terrorism," he told reporters on Wednesday.
"As we understand better exactly what happened," Obama said, "this obviously is something that we'll make sure to factor in, in the ongoing efforts that we have to counter terrorist attacks in our country."
© Copyright IBTimes 2023. All rights reserved.