Ottawa Shooting: CCTV of Michael Zehaf-Bibeau's Attack on Parliament [Video]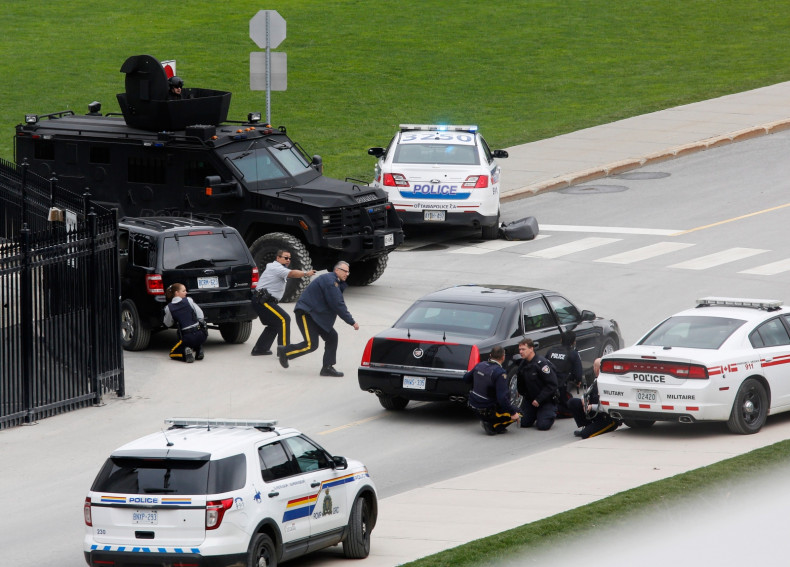 Canadian police have released CCTV footage of a gunman charging at the Parliament building in Ottawa on Wednesday (22 October), having already killed a soldier nearby.
Michael Zehaf-Bibeau, 32, had shot dead Cpl Nathan Cirillo, who was standing guard at the National War Memorial, not far from Canada's official government building.
Upon entering Parliament, Zehaf-Bibeau was shot dead by Sergeant-at-Arms Kevin Vickers.
The video shows Zehaf-Bibeau in the immediate aftermath of shooting Cirillo, driving a car up Wellington Street and parking next to the Parliament building's East Block.
As the police narrator observes, several bystanders, who had recoiled upon hearing the incident at the war memorial, fled when Zehaf-Bibeau exits the car with a gun in hand.
He then ran alongside the building's East Block and seized a minister's vehicle from its driver. They had exchanged words, the car backed up a little, and the driver quickly fled the scene.
Zehaf-Bibeau drove the car toward Centre Block, Parliament's main entrance, at which point Royal Mounted Canadian Police were in pursuit.
Three vehicles were following the gunman as he pulled up in front of the building.
He ran to the entrance and exchanged gunfire with House of Commons security, who backed off momentarily allowing him entrance.
Only one minute and 23 seconds elapsed between the time Zehaf-Bibeau parked his own car and when he entered Centre Block.
RCMP Bob Paulson said Zehaf-Bibeau was a Canadian-born petty criminal, possibly also a Libyan citizen, and not someone that Canadian authorities had listed as a "high risk traveller."
He is not thought to be connected to the Muslim-convert who killed a Canadian soldier in Quebec in a hit-and-run.
Paulson said Zehaf-Bibeau was "an individual who may have held extremist beliefs."
Meanwhile, his mother said she is "not crying for her son." Susan Bibeau, who had not seen her son in five years, said he "did not fit in."
Elsewhere, a man was arrested for breaching a police barrier around a memorial to fallen soldier Nathan Cirillo in an incident that illustrates the high-tension in the city.
As Prime Minister Stephen Harper was laying a wreath for the soldier Zehaf-Bibeau killed, a man crossed the police lines only to be forced to ground and arrested.