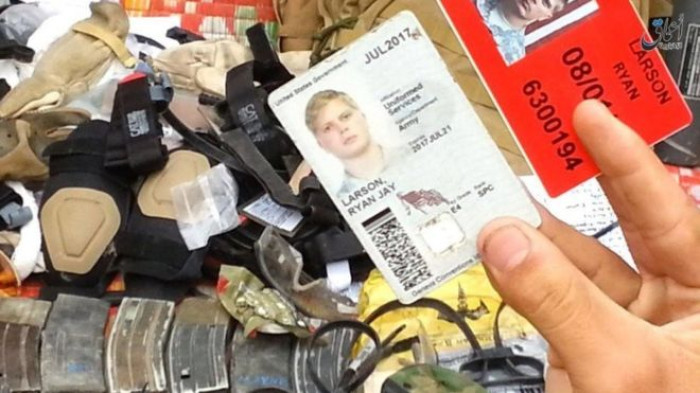 The US military has denied claims by Islamic State (Isis) that one of its soldiers has been captured in Afghanistan following heavy fighting. The Amaq News Agency – the terror group's propaganda arm – posted a number of photographs of US army equipment, including weapons and radios, as well as photo ID of a soldier called Ryan Larson. Amaq did not give details of when the photographs were taken but there is speculation it was after heavy fighting in Nangarhar Province in July.
At least five members of US special forces were wounded in fighting in Nangarhar Province, in the east of Afghanistan bordering Pakistan, whilst conducting joint operations with the Afghan army to counter a growing IS (Daesh) presence. The injuries were caused by shrapnel and small arms fire. None of the injuries were said to be life-threatening.
Although the photo ID of Ryan Larson appears to be genuine, the US insists he was not captured by IS and remains on active duty.
"SPC Larson was attached to a unit conducting a partnered [operation] with Afghan Forces," US military spokesman Commander Ron Flesvig said in an email published by The Guardian. "The soldier's ID and some of the equipment were left behind after the [operation]. The loss of personal identification is unfortunate."
The growing presence of Isis in Afghanistan has forced President Barack Obama to row back on plans to withdraw military from the region. There are thought to be 1,000-1,500 IS fighters in the country.
IS and the Taliban are also fighting, and IS admitted planting a bomb in Kabul in which 80 people were killed and 230 injured.
Obama has authorised the use of force by the US military in Afghanistan under any circumstances and the use of air strikes. He says 8,400 troops will remain in Afghanistan after he leaves office, according to the Military Times.