A steering failure, or maybe even hacked systems – the US Navy is considering all possible reasons after launching a broad investigation into the collision of the US guided-missile destroyer USS John McCain with an oil tanker off the coast of Singapore on Monday (21 August).
The investigation will also examine the reasons behind a series of accidents involving US ships in Asian waters in the past one year. The latest was the third in three months, and the fourth in a year.
While announcing the investigation and a day-long 'operational pause' across its worldwide fleet, Chief of Naval Operations Admiral John Richardson did not rule out the possibility that the ship could have been hacked, which led to the dangerous collision.
"(Regarding the) possibility of cyber intrusion or sabotage, (there are) no indications right now... but the review will consider all possibilities," he said in a tweet.
Recently, concerns were also raised about UK's biggest warship, the 65,000-tonne aircraft carrier HMS Queen Elizabeth, being vulnerable to cyber attacks. The warship used operating systems that were hacked earlier in 2017 during the WannaCry ransomeware attack that affected vital networks across the globe.
Britain's Trident nuclear submarine fleet also faces similar concerns of hacking, which essentially means that strategic security arsenal belonging to armed forces of the US and UK could be susceptible.
Meanwhile, the US Navy initially told media that the possible cause for USS John McCain's collision could be a steering failure. The warships's control systems from the command bridge to its steering mechanisms appeared to have failed, they found through initial investigations.
However, the Navy was investigating the failure of the back-up systems, which are meant to support the ship during such emergencies, news.com.au reported.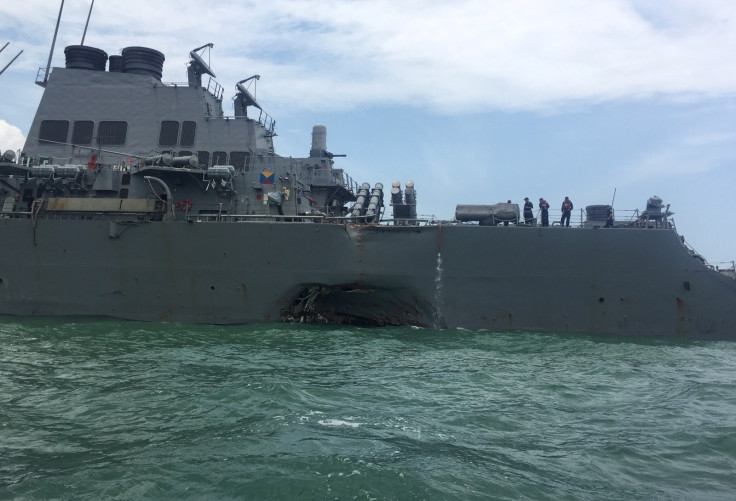 The Navy reportedly suspects that the collision could be a result of both mechanical and procedural failures. There is "great cause for concern that there's something out there that we're not getting at," Richardson said.
Five sailors were injured in the accident. The ship's hull suffered significant damage as well – which led to the flooding of compartments, including crew berthing, machinery and communications rooms.
At least 10 sailors who went missing following the collision are still unaccounted for as search and rescue operations continus. The search crew involves ships and aircraft from Singapore, Malaysia and the US.
US' amphibious assault ship USS America also joined the search operation after arriving in Singapore on Monday. Additionally, the ship is providing support to USS John McCain crew members to drain water from the warship and repair the damaged systems.