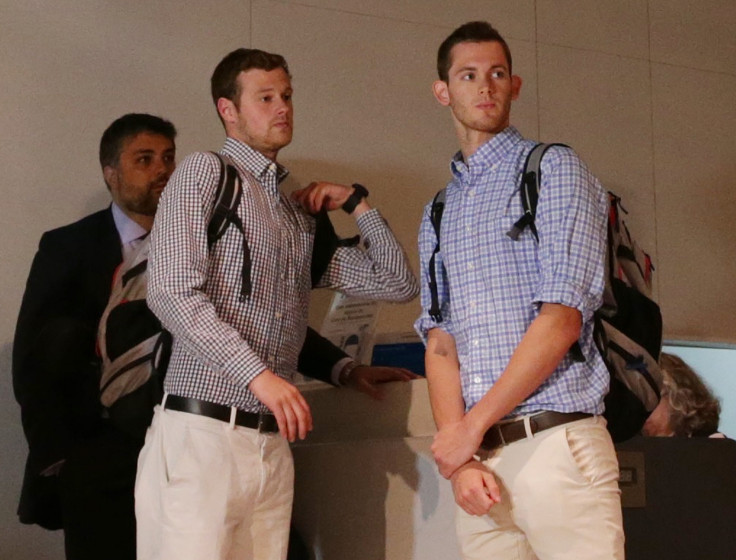 The US Olympic Committee (USOC) has issued an apology to the people of Brazil following the "unacceptable behaviour" of swimmers Ryan Lochte, Gunnar Bentz, Jack Conger and James Feigen. The four athletes originally claimed they were robbed at gunpoint in Rio on 14 August after a party.
Brazilian police rejected the Olympians' story. "No robbery was committed against these athletes," Fernando Veloso, chief of the Rio de Janeiro police investigative division, said at a news conference on Thursday (18 August). "They were not victims of the crimes they claimed."
Bentz and Conger left Rio on Thursday evening after being hauled off a plane and taken for questioning a day earlier. Lochte left Brazil for the US on Monday and Feigen remains in the country.
A USOC statement confirmed the Olympians had stopped at a petrol station to use the toilet, "where one of the athletes committed an act of vandalism. An argument ensued between the athletes and two armed gas station security staff, who displayed their weapons, ordered the athletes from their vehicle and demanded the athletes provide a monetary payment. Once the security officials received money from the athletes, the athletes were allowed to leave," the statement added.
No charges have been filed, but the swimmers' actions have caused anger in Brazil, with many viewing it as an attempt to play on all the fears and stereotypes that the country has been battling for years.
"The behaviour of these athletes is not acceptable, nor does it represent the values of Team USA or the conduct of the vast majority of its members. We will further review the matter, and any potential consequences for the athletes, when we return to the United States," the USOC added.
"On behalf of the United States Olympic Committee, we apologise to our hosts in Rio and the people of Brazil for this distracting ordeal in the midst of what should rightly be a celebration of excellence."
The US media has slammed the swimmers' conduct. The San Francisco Chronicle accused them of not only embarrassing their own country, but "humiliating" the host nation in the process. Lochte came in for strong criticism and was described as harbouring "delusions of machoness."
The New York Post spared no punches, saying Lochte "cried wolf and was called on it," while the Washington Post said he represents a "special category of obnoxious American 'bro'".
"Is there anything worse, in any country, than a bunch of entitled young drunks who break the furniture and pee on a wall?" Washington Post columnist, Sally Jenkins asked. "There is no translator needed for that one, no cultural norm that excuses it."